NOHrD
Luxury wooden gym equipment handcrafted in Germany
NOHrD is the perfect the combination of sport in style
Since the 1980's WaterRower have been producing beautiful home rowing machines. Then, in 2005 they introduced NOHrD and business has been booming ever since. A German company, NOHrD are the wooden fitness manufacturer that are taking the world by storm. Their beautiful designs can be seen in some of the best luxury gyms on the planet. It is no surprise that their range is very popular with many of our gym design clients.
Sustainability is a priority for NOHrD, therefore they respect the environment when sourcing their materials. All wood for their equipment range is carefully handcrafted on site at their manufacturing facility. When sourcing the wood, NOHrD ensures it is from sustainably managed forests in the USA and Germany. With any leftover wood used for power generation. Whilst all leather that features on their products is exclusively from Germany. Furthermore, they use their factory's 1500 sq meter area to produce solar energy to power their machinery with low-emission efficiency. Their consistent focus on sustainability makes them one of the most environmentally conscious manufacturers in the industry.
NOHrD creates every piece with both functionality and beauty at the forefront. As a result, this makes them more than your standard piece of sport equipment, as they embody luxury in every element. Easily mistaken as a work of art rather than a fitness machine, the NOHrD range will seamlessly fit into any environment. Whether it's a home gym, fitness boutique or a working environment, they can be used wherever due to their clever space saving design. The NOHrD Bike for example, has proved hugely popular in offices. This is due to its ability to double as a usable workstation but equally make a great feature in any room.
Their equipment range includes strength and cardio machines along with gym accessories. Meaning you can experience a full body workout with a mixture of NOHrD products. One of their strength pieces is the NOHrD SlimBeam. An elegant multi-use cable machine, which can easily fit into any space at only 40cm wide. Or if you favour cardio, the NOHrD Sprintbok is simply stunning. Don't be misled by its beauty. Powered by the user, it offers as intense a workout as you want. Alternatively, if you want something that is low impact and easier on your joints, the Eau-Me Board is an exquisite piece. This unique balance board uses water to shift the direction and work against the user. Lastly, clients can customise each piece to meet their desires. With a number of high-quality woods to choose from, they can ensure it compliments the interior design.
Your journey with NOHrD doesn't end once you receive your beautiful equipment. Clients can download the My-NOHrD virtual training app with more than 300 exercise videos. Thus supporting each user by improving their level of fitness and taking their training to the next level.
When you invest in a NOHrD product, you will receive a functional piece of gym equipment, a work of art and a stunning feature to your space. This brand is the epitome of luxury gym equipment and we are very proud of our partnership.
Our latest NOHrD news and blog posts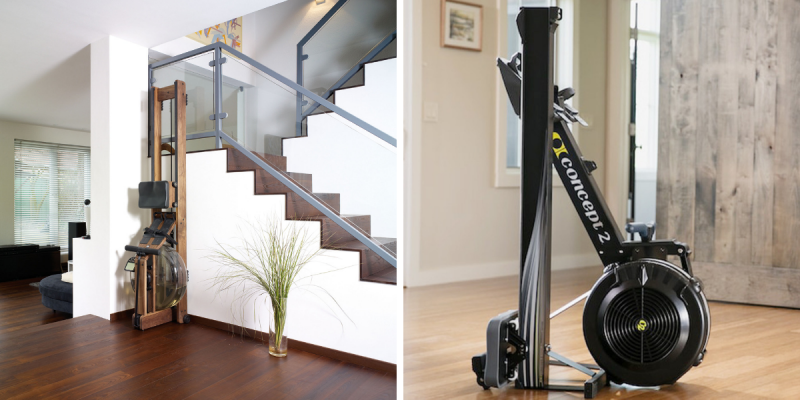 Concept2 vs WaterRower, for some rowers it's an age-old question! Indoor rowing has become vastly [...]
Gym Design Projects featuring NOHrD Gym Equipment