A regular feature in most daily workouts is cable based strength exercises, which are often overlooked in favour of dumbbell and barbell based, or 'freeweight' training. Free weights are great and hugely popular, but they also take up a lot of space. If space is something you don't have in ample supply during your gym design process, there is another way you can get the same great results in a much smaller footprint!
Cable machines are excellent strength training devices, and in fact bring about a few extra benefits that you won't get with free weights. They are much safer, particularly for heavy lifting when you don't have a spotter and ensure that you are much less likely to hurt yourself at point of muscle failure (even if the weight stack does take a bit of a pounding!). They are also incredibly versatile and are designed work every part of your body, either in larger muscle groups or by isolating specific muscles through carefully honed movements. The most important feature that achieves true versatility is the adjustable cable column, which can be set to different heights depending on which muscles you plan to train. The experience is enhanced by the constant resistance of the machine. This makes it easier to perform controlled exercises, which in turn will help you to complete heavier lifts. Pairing your cable machine with a vast array of cable attachments increases dramatically the range of movements available. Some manufactures advertise over 140 possible options for cable machine workouts.
Cable machines are great whether you're new to weight training, recovering from an injury or a pro lifter – a single adjustable cable column or a dual adjustable pulley will be the perfect companion. We think they are essential for every gym, and if you are looking for one that will look beautiful in your home gym you won't beat the NOHrD Slimbeam.
Why we love it: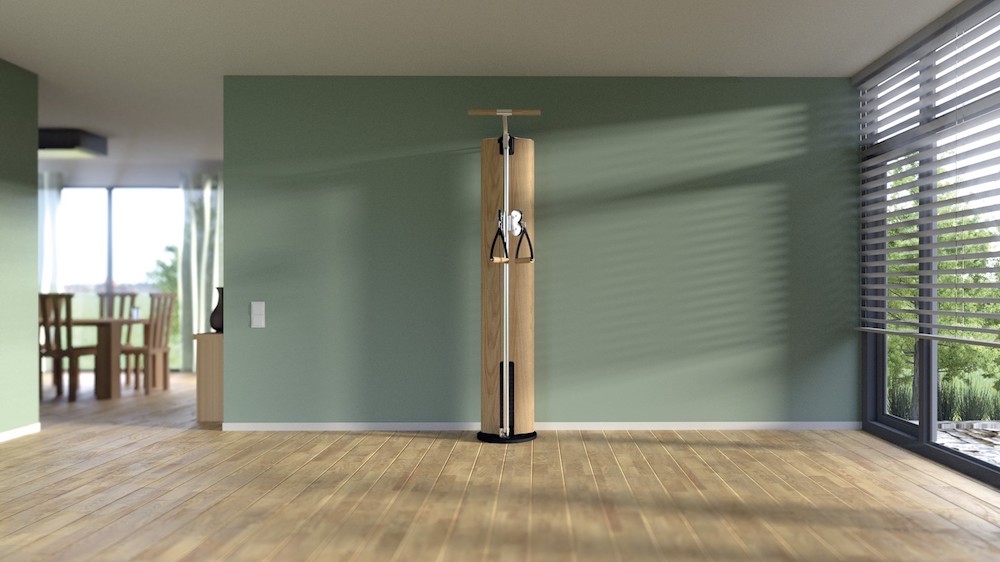 The NOHrD Slimbeam is a design focussed cable machine that packs a punch and will look great in any home gym or superyacht gym. Its slender profile makes it instantly recognisable and in addition to the variety of standard colour choices on offer, it can be fully customised to meet your exact specification. Customers familiar with NOHrD products will know that their most desirable finishes are the various options of wood available, which match those from their sister brand WaterRower. We often find that these wooden finishes compliment luxury interiors and gym spaces where high-end design is at the forefront of client's thinking.
This cable tower also has an incredibly small footprint, making it an ideal solution for those looking to maximise available space in their chosen workout area. At 215cm high and 40cm wide with a depth of 20cm, it will fit neatly against a wall and cause very little obstruction – freeing up space for floor exercise and stretching.
Key to the design of the NOHrD Slimbeam is its butterfly-shaped pulley adjustment that allows the user to use both arms from just one central weight stack. It can also be adjusted to any height, facilitating multiple workouts for both the upper and lower body. The cables themselves are synthetically coated and run fluidly creating optimal conditions for smooth strength training. We also love the rubberised weight plates, which mean the machine is very quiet even when the handle is dropped. This machine is a real winner!
There are also a variety of accessories you can purchase to take your NOHrD Slimbeam workout to the next level. First add the Slimbeam Bench, which can be customised to match your machine's colour scheme. Then choose the aluminium LAT bar and ankle strap to give you options for growing the upper back and leg muscles. After something more interactive? Then you'll love the Electronic Training System pack. This includes a universal Android tablet holder (up to 13 inches) which can be attached to the frame of the Slimbeam and connects via a USB plug. Then all you need to do is download the training app from Google Playstore and follow the pre-set workouts.
The NOHrD Slimbeam is a truly beautiful machine, which like all NOHrD products is a feature in its own right in any room. If you're looking to bring style to your workout, this cable machine is must have for your gym space.
Marketing Manager – Gym Marine Yachts & Interiors.
Marketing for Gym Marine is a total joy. My days are spent investigating new exciting gym equipment, catching up with our manufacturers and constantly finding new ways to reach you, our fantastic customers. If you have any queries or want to talk all things marketing, drop me a line!