WaterRower
WaterRower craft premium Gym Equipment for the consumer and commercial markets
WaterRower Wooden Rowing Machines
Since the 1980's WaterRower have been making beautiful home rowing machines. The first home rowing machines were made out of wood sourced from the Appalachian mountains in the USA, and the design of the water rowing machine is still more-or-less the same today, and is instantly recognisable in any home gym or commercial gym. This machine is the preferred erg of British Rowing, who love the natural resistance provided by the patented flywheel inside a water tank. The harder you row, the greater the resistance – which means that the professionals argue this is the most realistic 'real rowing' feel you will find on an indoor rower.
The home versions of the Wooden Rower are available in a number of different finishes, most of which stem from the use of different woods in the construction of the rowing machine.
The WaterRower Classic is built in a beautiful Dark American Walnut, and is favoured by interior designers using darker colour schemes in home gym design projects. The WaterRower Natural is lighter in colour and made in stained honey oak. Equally, the WaterRower Oxbridge is lighter in its aesthetic, though the cherry wood finish is not quite as light as the Ash and is a little more orange in appearance. Lastly, the wooden WaterRower Club blends a modern stained black finish with rose stained ash, adding a different and eye catching element to any home gym. Invariably, there is a finish to compliment any interior; however it is also possible to customise these machines with your own stain or powder coat.
In recent years the team at WaterRower have been working to come up with new designer rowing machines that are made of different and interesting materials aside from wood. For example, one of our favourite luxury rowing machines is the stainless steel WaterRower S1. The company has also come up with a range of commercial rowing machines; and you won't find an erg more sturdy than the WaterRower M1 or the wooden WaterRower A1 Studio.
Important to note is the versatility of the S4 Performance monitor. It allows keen rowers to create and save custom workouts whilst also giving them the ability to link up to an online rowing community called WeRow. Here you are able to pitch yourself against other athletes and watch your scores improve with performance. Another hugely desirable feature is the easy way this rowing machine stows away when not in use. You simply flip it up onto its end, and place it against a wall. This means the total footprint is less than one square metre. Therefore it is perfect to use in a home environment where perhaps a traditional rowing machine might take up too much space. Simply wheel it out and stick on the TV, a gruelling workout awaits!
Designed for serious professional and amateur rowers alike, this home rowing machine is both beautiful aesthetically and is functionally competitive. Please do get in touch with our gym design team if you have any further questions or would like to purchase one for your home. We have a whole range of rowing machines and various accessories available for them, so we would love to take your call!
Our latest WaterRower news and blog posts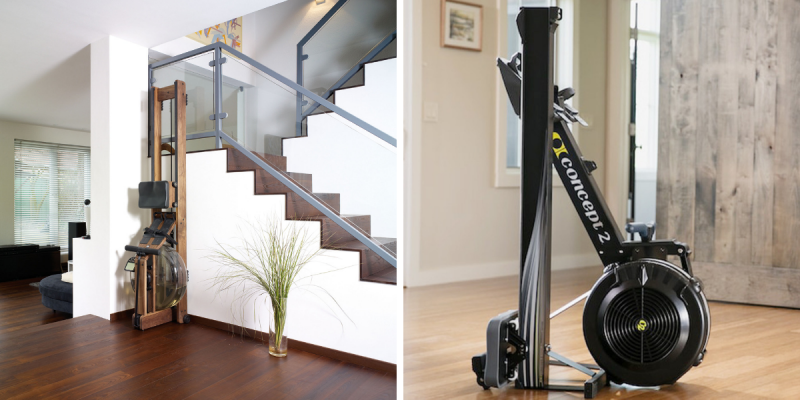 Concept2 vs WaterRower, for some rowers it's an age-old question! Indoor rowing has become vastly [...]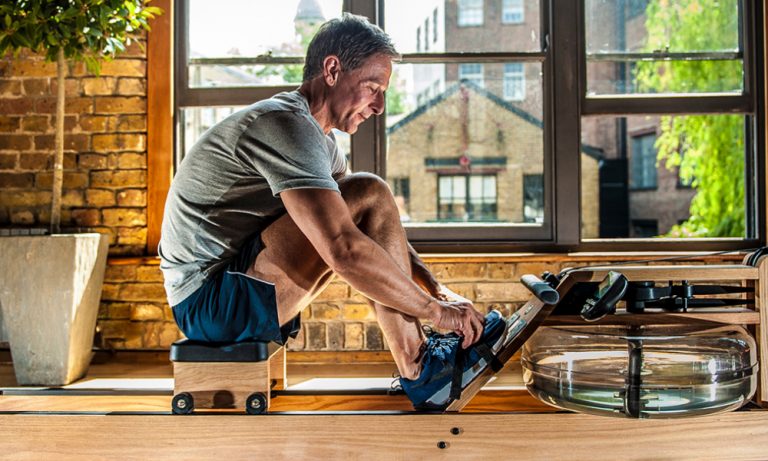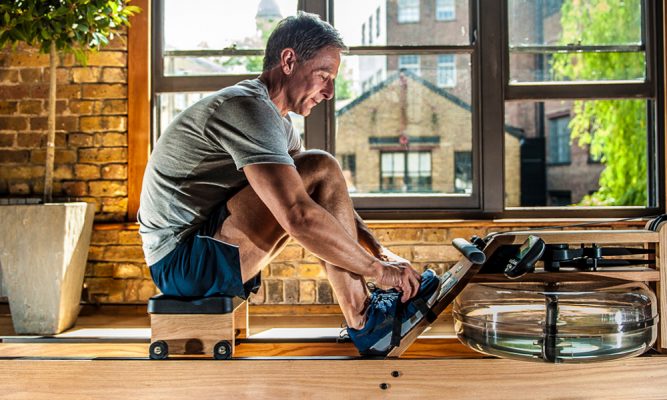 WaterRower not only offer innovative equipment but their designs have challenged the norm. The sleek [...]
Having money to spend on beautiful things is one of life's great joys. Maybe it's [...]
Gym Design Projects featuring WaterRower Gym Equipment