Having money to spend on beautiful things is one of life's great joys. Maybe it's cars or designer watches, or perhaps art is your thing? But what about luxury gym equipment? Does such decadence exist? Well of course it does! And if you're a fitness fanatic with cash to splash on a luxury gym design, here is a shopping list that might just make your year…
TREADMILL: Technogym Run Personal
When you're picturing your perfect home gym, the treadmill is surely one piece of equipment that is going to take prime position. There's an overwhelming amount of choice on the market, but here we are only after luxury gym equipment: so for this list the Technogym Run Personal is a must have.
This beautifully proportioned machine effortlessly combines style with functionality. Technogym's premium home treadmill is exquisite to look at but also won't be beaten when it comes to technology and quality. The UNITY console is the largest HD ready touchscreen on the market. Spanning 19 inches, the high tech screen is made of tempered glass. The entertainment functions are endless, and users have access to a whole host of popular apps including Netflix and Facebook. Entertainment on the Technogym UNITY console even goes as far as a range of games and the ability to make Skype calls whilst you run! You can log into the console via your Technogym wellness key, smartphone or Apple watch to track your workouts, and fitness tech fanatics can monitor progress and share data via the web.
Another great feature of this treadmill is the silent motor designed for home use. So, if you're one for a late night workout, you won't be keeping everyone awake while you pace it out!
MULTIGYM: NOHrD Slimbeam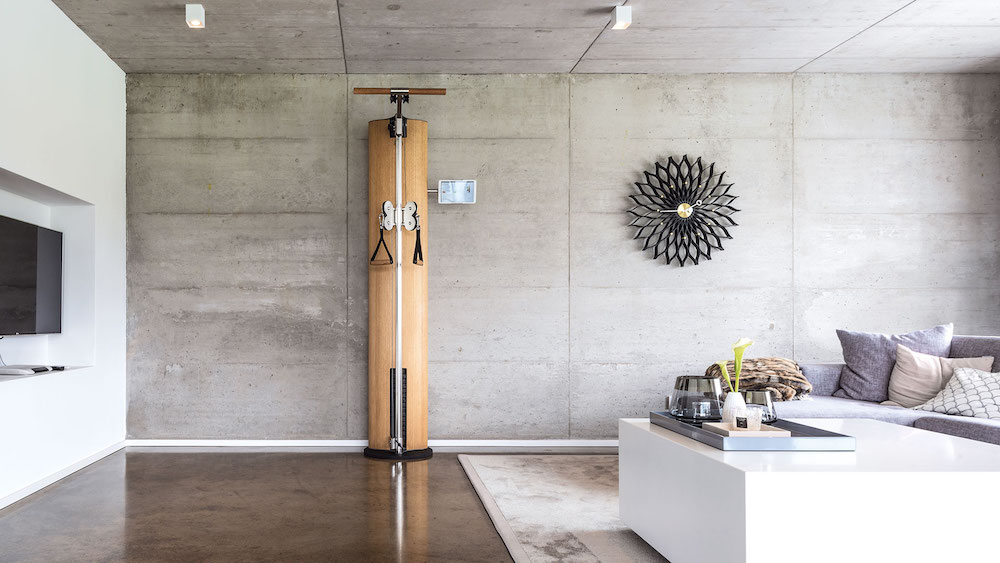 When it comes to luxury gym equipment one key characteristic you should be looking for in your machines is versatility. If you're investing this much in your gym, you've probably got colour schemes in mind, and standard stock ones just aren't going to cut it. Enter the NOHrD Slimbeam.
This multi gym looks like a piece of art in its own right, and additionally can be customised in any colour. Some people want their gym equipment to match the curtains, some are after a contrasting finish with their gold leaf wallpaper. Whatever your taste the Slimbeam gives you the option to compliment your interior decor effortlessly.
Unlike most multi gyms the Slimbeam cuts a slender figure with a small footprint. Making it ideal for homes where space often comes at a premium. With a height of 215cm, depth of 20cm and width of 20cm it fits perfectly against a wall and looks so lovely that you may forget from time to time that it is gym equipment at all. A characteristic which is true for many of NOHrD's products.
Find out more about this amazing product in our recent #ProductOfTheWeek post.
KETTLEBELLS: Pent Lova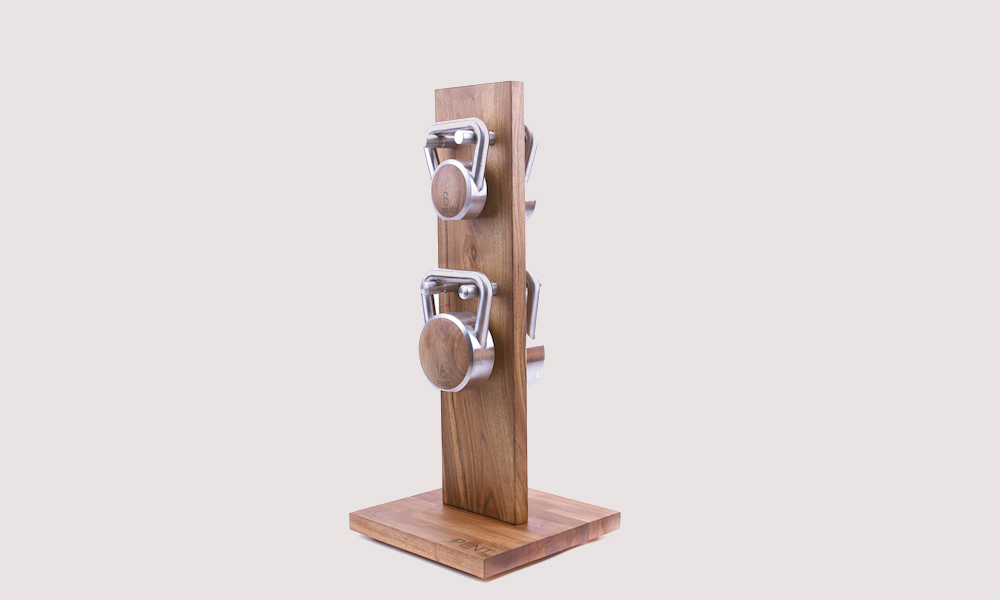 The Pent Lova Kettlebells need no introduction. Made from wood and stainless steel these weight sets are the epitome of luxury and will be sure to give an extra bit of style to your swings. Because you should never be limited to just one option, they are available in four different wood types: Walnut, Sycamore, Oak and Elm. All that's left is to choose if you prefer a dark and mysterious feel, or something light and bright…?
These kettlebells are available in two sets dependent on weight requirements. The 'light' set consists of a 4kg, 6kg, 8kg and 10kg kettlebell. Whilst the 'medium' includes weights of 8kg, 12kg, 16kg and 20kg. Both also come with the beautifully engineered Pent rack. Allowing your luxury gym equipment to take pride of place in your workout space without cluttering up the floor.
It's the simplicity in the design that makes these kettlebells so beautiful. The combination of wood on steel works so seamlessly people will always be drawn to them.
DUMBBELLS: Hock Loft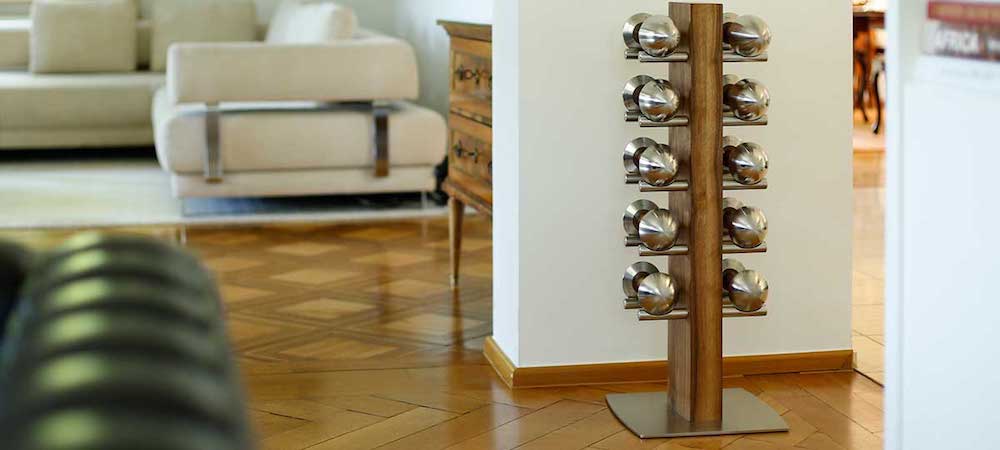 Luxury gym equipment isn't just the inclusion of a big price tag; the design is essential. These Hock Loft Dumbbells are another delightful example of what can be created using wood and steel. More industrial looking than the Pent Lova Kettlebells, these weights are made using polished and oiled nutwood and come with their own rack made from finely ground oiled solid walnut. They are available in a number of different sets from three to five weights weighing between 1kg and 6kg. These are most suitable for light weight training and are perfect for muscle strengthening and toning.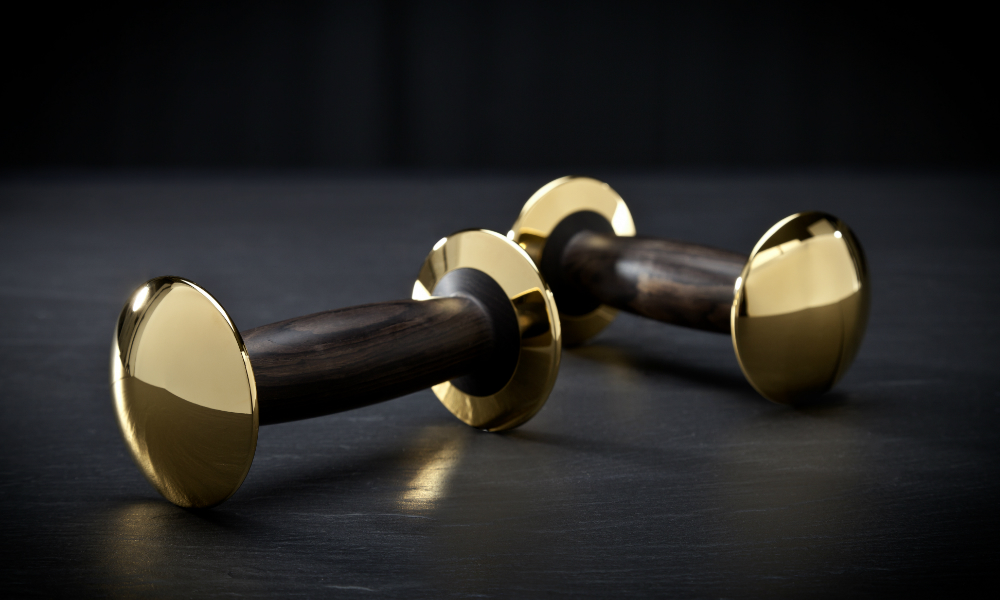 Not quite glizty enough for you? Well, in that case, maybe it's the Hock GoldLoft Dumbbells that you need? Made from grenadilla wood and finished in 18 Karat yellow gold these dumbbells are a sight to behold and would satisfy the indulgence of any luxury product afficionado. Available in pairs weighing 1.25kg each and handmade in Germany, they will be hand-delivered to you in a presentation box with a certificate of authenticity. And, you won't need to worry about all your friends trying to nab themselves a pair due to their exclusivity. Only 50 pieces will be made available for purchase!
No luxury gym would be complete without at least one piece of equipment from the Hock range and if you're after a gift that is really going to knock the socks off someone you love, surely you can't beat a pair of gold dumbbells…right?
ROWING MACHINE: Water Rower S1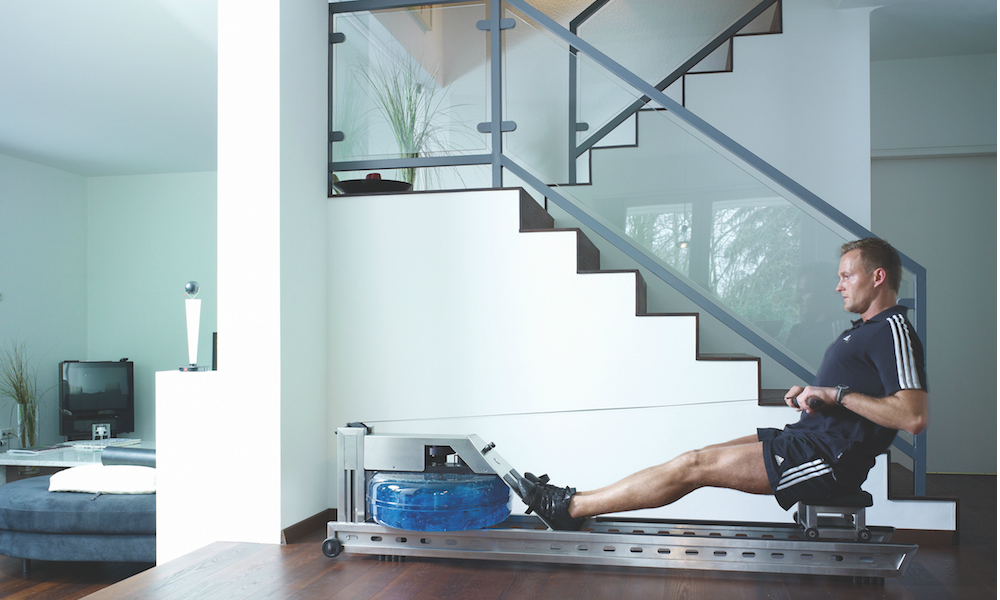 Rowing is a great form of exercise and with the WaterRower S1 you will be working out in stainless steel luxury. Designed in Germany this machine is another example of the craftsmanship of the famous WaterRower & NOHrD partnership. Like all their rowing machines the S1 uses the patented 'water wheel' which acts as natural resistance which increases the faster you row. The S4 Performance monitor will keep you updated on your progress providing stats on your speed, distance and stroke rate as well as workout programmes that can be set by time, distance or distance intervals.
This limited edition rower makes our luxury gym equipment list due to its stainless steel finish. It makes it not only magnificent to look at but also incredibly practical. This is a machine that can brave the elements and is perfect for use outside as well as being very popular with our superyacht gym design clients due to its tolerance against rust. It will look great on the aft deck, lovely by the pool and right at home in your basement studio. Wherever it'll suit you best the S1 will bring your gym to life.
BUY THESE LUXURY GYM EQUIPMENT PIECES
TALK TO US ABOUT LUXURY GYM DESIGN
Marketing Manager – Gym Marine Yachts & Interiors.
Marketing for Gym Marine is a total joy. My days are spent investigating new exciting gym equipment, catching up with our manufacturers and constantly finding new ways to reach you, our fantastic customers. If you have any queries or want to talk all things marketing, drop me a line!