Due to the beauty in the design of each piece they produce, NOHrD have long been a favourite among our superyacht and home gym design clients. It's the use of wood in all of their equipment that makes this brand feel so luxurious as well as soft lines which create a stark contrast to most gym equipment on the market. Each new release is hotly anticipated and the launch of the NOHrD Eau Me Board has been no different.
Balance boards are very a popular training tool and are used by everyone from professional athletes to physiotherapists. Regular use strengthens and stabilises core muscles as well as greatly improving balance and coordination. This can be particularly helpful for reducing injury prone accidents as you naturally become more spatially aware and are able to steady your body more easily when dealing with potential trips and falls. As well as improving overall core strength which is great for muscle toning and weightlifting performance.
Improved agility is a particular focus for athletes as better balance and coordination significantly impacts accuracy, vital for any sportsperson whether they are on the track or on the field. This benefit has also proved important for those with disabilities that struggle with cognitive and sensory impairments with marked improvements being found through the strengthening of the core and overall balance.
The Eau Me Board is NOHrD's take on the traditional balance board but it will take some serious stamina and skill if you want to master it.
Why we love the NOHrD Eau Me Board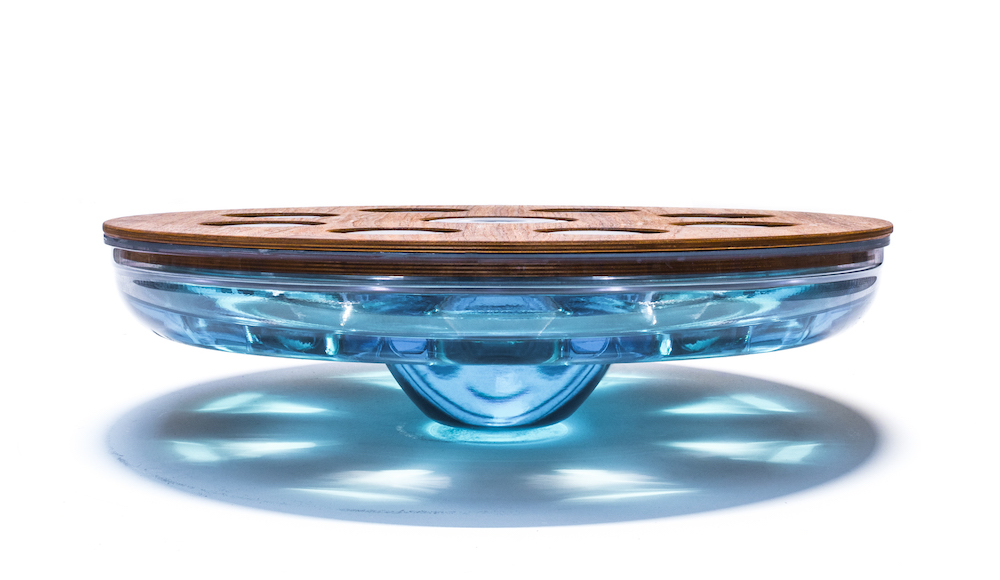 NOHrD recognised the numerous health benefits of the balance board and decided to create one of their own. The wooden footplate is a key feature and can be manufactured in any of their signature woods, as well as a steel option which gives a more industrial finish. The base is made from plastic and filled with water.
It is the inclusion of water that really sets the Eau Me Board apart from other balance boards. As the water moves in any direction and no particular path or pattern can be predicted, the user will not be able to practice or memorise particular positions. This increased difficulty requires constant engagement with the board and will test even the most well-balanced people.
Aside from the health benefits, the most notable features of the NOHrD Eau Me Board are its sleek lines and beautiful finish. Like all NOHrD's fitness equipment this is a product that will look elegant wherever you choose to use it. Perfect for a superyacht gym or in your home studio and so easy to transport, you'll be able to take it with you wherever you're working out.
buy the NOHrD Eau me Board
Marketing Manager – Gym Marine Yachts & Interiors.
Marketing for Gym Marine is a total joy. My days are spent investigating new exciting gym equipment, catching up with our manufacturers and constantly finding new ways to reach you, our fantastic customers. If you have any queries or want to talk all things marketing, drop me a line!