In 2019 the concept of wellness has evolved from being "just a trend" and has become a way of life. This is certainly a big consideration which is taken into account when we are designing a gym onboard a superyacht. Having a yacht gym is no longer a bonus or a nice-to-have, but is a valued part of the vessel for both the owners and crew members.
Gyms have become a standout feature with their carefully mapped out designs and stylish equipment, in fact they are becoming more and more extravagant and creative. Nowadays with plenty of equipment on offer the lack of space doesn't mean restriction, rather that you can get selective and really tailor the space to your specific fitness regimen. Designing a yacht gym requires you to think outside the box and make use of what you have, lending careful consideration to ergonomics and user flow in order to curate the perfect fitness space.
When it comes to figuring out the ideal place to build a yacht gym the question is; where would you rather work out?
If you're all about the view then part of the sundeck (enclosed or open) may be the perfect place for you. Or if you would rather it be closer to your cabin or wellness deck, an interior area nearby may be your best bet.
There are a lot of factors to consider with a yacht gym, including ceiling heights, where equipment will be stored if placed outdoors and how to affix equipment to ensure it's secure enough when you set sail. Mapping out the layout is a big part of our work here, taking into account how much floor space you require for the various exercises. Which equipment best fits your routine, and whether you require more than one workout space for different disciplines are also important questions.
When selecting the equipment, we often ensue that our focus is on multifunctional equipment that still retains good stylistic properties. After all, your superyacht gym should be just as beautiful as the rest of your interior!
Here are a few yacht gym designs which we have had the pleasure of being involved with, and an insight into some of the decisions made by our gym design team.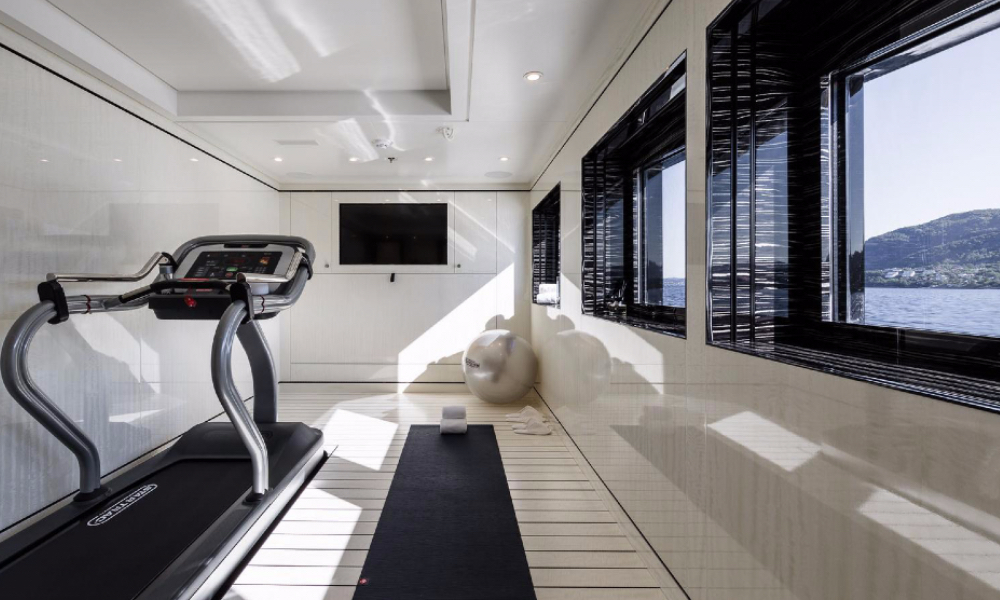 Lili is a beautiful Amels designed by Tim Heywood and Laura Sessa. We were contracted by the build team to assist with a particular request from the owner for a bespoke feature and unique machine.
The primary user of this gym was a particularly tall male, and there was limited ceiling height in the room. The StarTrac S TRx treadmill we chose displays custom handrail extensions which Gym Marine fabricated to ensure extra safety when in use. The StarTrac S TRx was hand selected as it has the lowest deck height of any commercial treadmill; when working with lower ceilings and a tall user this machine is always going to be a perfect fit.
The Treadmill sits in a floor recess and positioned above it is a ceiling "dome" to maximise height. During the design process we always work with the yard and yacht designer to find as much extra height as possible, making sure the yacht gym is engineered perfectly for the client and their profile.
Seen also is the Technogym Wellness Ball and the expertly designed Manduka yoga mat.
(Photo Credit: Charter World)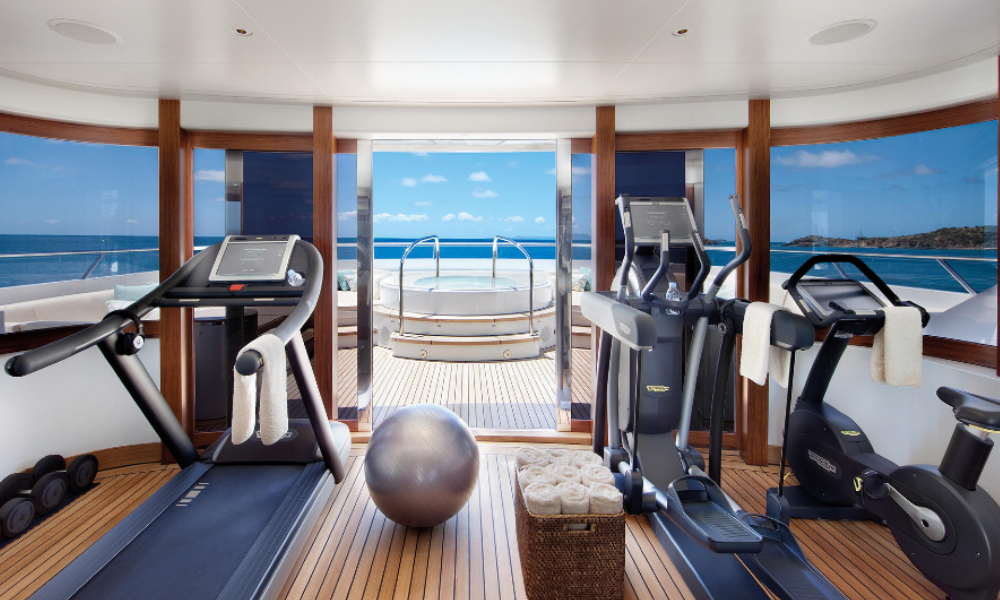 A glorious Feadship build, charter yacht LADY BRITT boasts Scandinavian influences, accentuated by splashes of colour (from the award winning designer RWD). This spectacular superyacht offers a panoramic sundeck gym – partially open, basking in the sea views. Charter guests are able to indulge in an authentic Finnish sauna as a post workout treat. The perfectly prim space gives you the Technogym Excite Line; the Excite range offers a fully connected cardio experience and the collection's new range of colours adds a stylish touch to any space.
Gym Marine keep in regular contact with LADY BRITT as she cruises around the world; we're always on hand to support and deliver equipment last minute for both charter rental requirements and upgrades requested by the owning family.
(Photo Credit: Edmiston)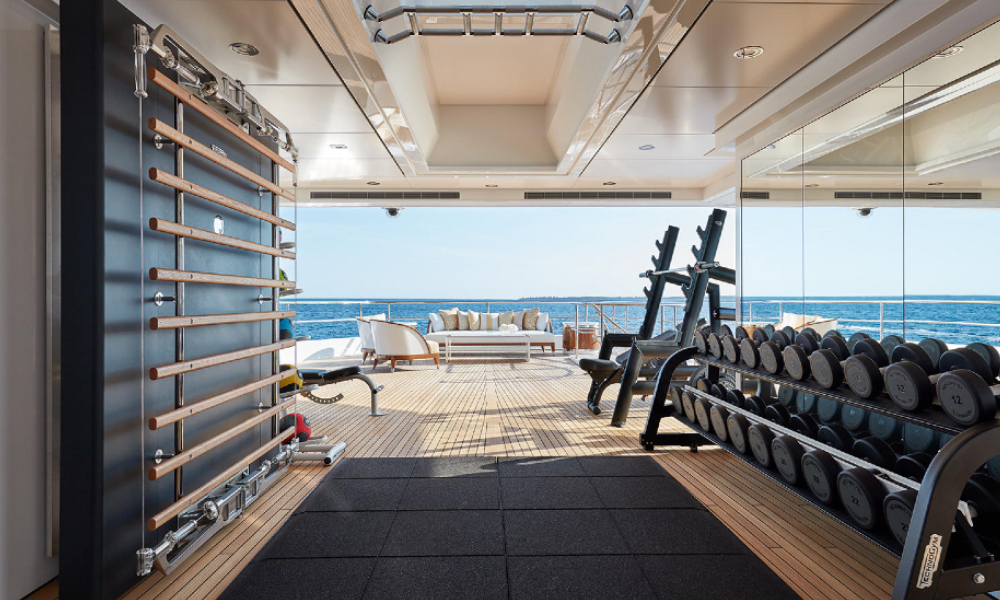 Another one of Feadship's impressive builds, JOY offers a vibrant interior curated by the talented Studio Indigo. Their wellness space showcases style and practicality. Gym Marine assisted with the planning of the yacht gym, creating a fitness area that boasts incredible views and an open space. The designers cleverly used fold out glass doors so guests can work out with a cool sea breeze, simply close them up to protect the equipment from the elements when underway.
This yacht gym features cardio and strength equipment from the Technogym Personal Line, including the Kinesis Personal Heritage. Technogym weight sets and the colourful Escape Fitness Medballs complete a really great offering of accessories and free-weights; everything you could need for a well-rounded workout.
(Photo Credit: Boat International)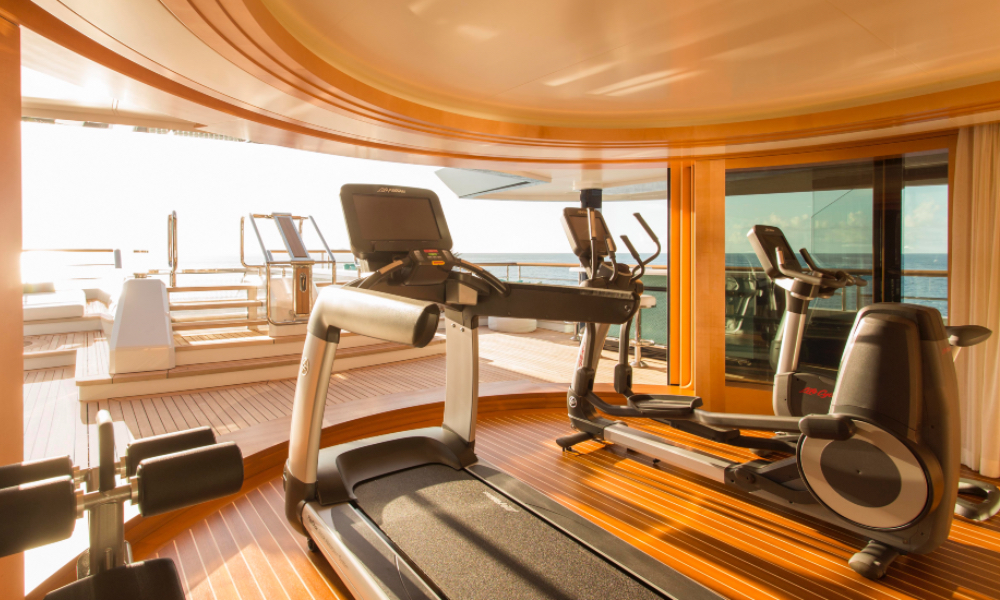 A vision of glamour this boat showcases a contemporary interior, with hints of classic décor (a signature of Eileen Rodriguez Design) and a mix of rare materials – including 49 types of stone and 33 exotic woods. The yacht gym is no different, the Life Fitness Elevation Series cardio equipment is paired with rich wood and sculpted ceilings. The range also features the media rich Discover Console.
(Photo Credit: Fraser Yachts)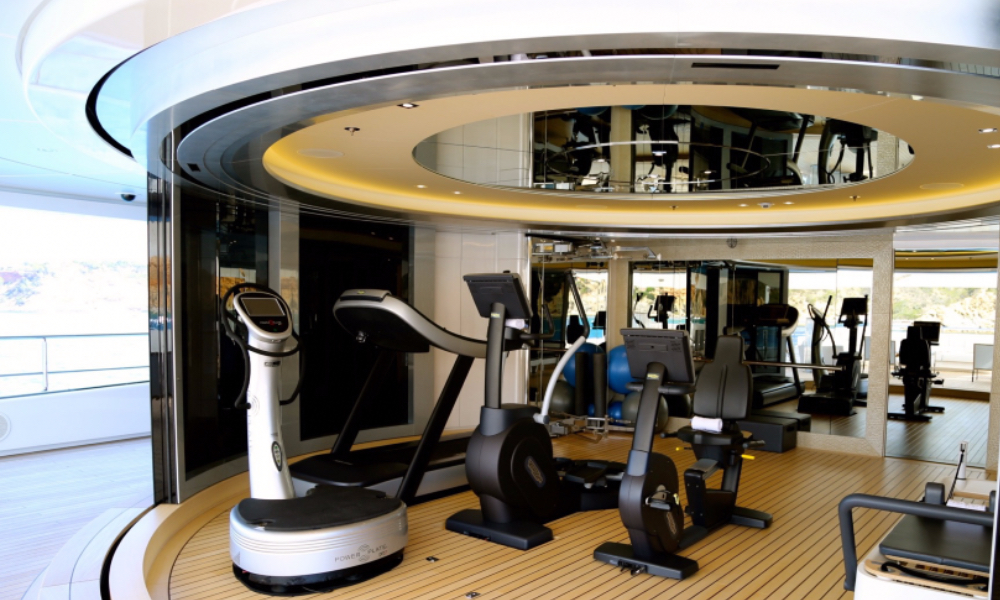 We worked closely with Y.CO and Reymond Langton Design to create a guest gym on the bridge deck for LADY LARA. She also features a crew gym positioned perfectly in their living quarters. Expect luxury and a killer workout, the main yacht gym (pictured above) showcases the Technogym Run Excite 1000 Treadmill, the Kinesis Personal and the Technogym Chrome Dumbbells, as well as the Power Plate pro7.
No matter what kind of space or theme you need to adhere to, we're here to provide expert layout planning and smart equipment choices. Whether you are looking to showcase your wellness space on the sundeck, want a personal gym close to your quarters or an accessible place for your crew we're here to curate the most stylish and luxurious of workout spaces.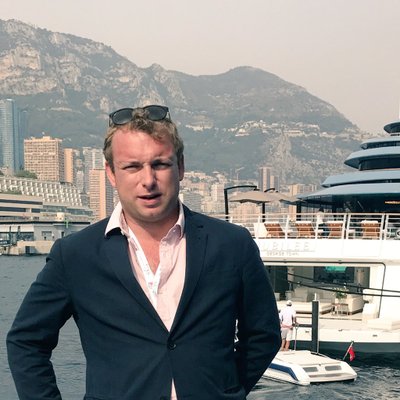 Director & Founder – Gym Marine Yachts & Interiors. 
I began my career onboard superyachts working for some of the world's most discerning clients, finding health & fitness to be a common passion amongst all of them. Starting Gym Marine at 24 has been my proudest achievement yet, and today we are striving to become world leaders in our field.