Exercise balls are probably one of the most underrated pieces of equipment in the gym. Often found in a corner or pushed to the side somewhere, these circular beauties have a lot to offer and guess what… they don't just have to be for the gym.
There are multiple benefits to using them but one that makes them particularly popular is their impact on posture which has seen them take on a new role in many offices as the replacement of the office chair. As more of us find ourselves in sedentary jobs with little reason to walk around during the day, those that have chosen to sit on exercise balls will have noticed many benefits – including better core strength and in some cases reduced back pain.
They're excellent for muscle toning and you'll see real improvements in stability and balance as in order to stop you falling off, your core abdominal muscles will be constantly engaged. Back in the gym, they can be used for all body workouts including core strengthening and flexibility training and they are also used often by physios due to the lower back support it provides for stretching.
With so many uses really there should be one in every home but given that they are mostly made of blue shiny rubber, you'd be forgiven for thinking that perhaps it wouldn't quite 'go' with the feel of your swish gym. Luckily we've found the perfect solution and we know that you are going to love it. The VLUV AQVA is like no exercise ball you've seen before and everything about it is luxurious.
Why we love it: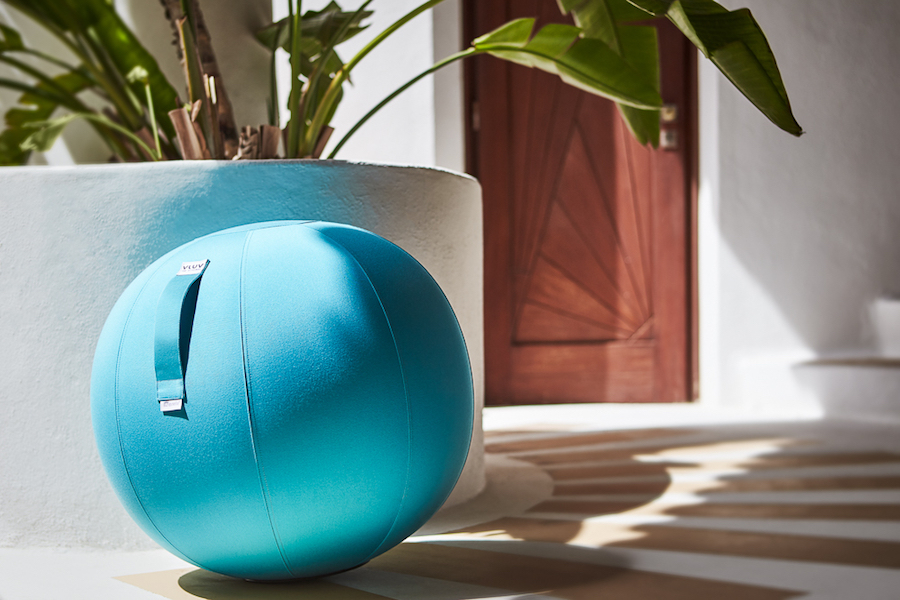 German firm Hock Design are the makers of some of the most beautiful fitness equipment on the market and their VLUV AQVA ball is another example of their luxurious creations. Specifically designed with outside use in mind, this ball has the highest UV resistance (level 8), is chlorine and saltwater resistant and the cover is machine washable. So for your workouts by the pool or on the deck of your superyacht, this would be ideal and you won't have to remember to keep taking it inside all the time since it will hold its own against the elements.
Of course, it doesn't just have to be used outside and would also look right at home in your gym too. In fact, its versatility makes it a fantastic companion to take with you wherever you choose to workout. The ball has a carrying handle so it'll be easy to transport around your home (or yacht)! There are three colours to choose from, and whether you're looking for something bright and exciting or dark and mysterious, you'll be able to find exactly what you're after to complete your look.
Now we've found these we don't we could ever go back to shiny rubber. Surely the VLUV AQVA ball is THE ball to have if you're looking to make your gym and outside workout spaces as stylish as they are functional. Let's be honest, without style what have you got?
Marketing Manager – Gym Marine Yachts & Interiors.
Marketing for Gym Marine is a total joy. My days are spent investigating new exciting gym equipment, catching up with our manufacturers and constantly finding new ways to reach you, our fantastic customers. If you have any queries or want to talk all things marketing, drop me a line!