As superyacht gym experts, the team at GM are committed to ensuring your training is enriching and rewarding. With the technology we now have access to, workouts can be enhanced no end and your fitness discipline need never be dull. In the first of a set of features in yacht fitness tech, we'd like to share our excitement about this simple trick in transforming your onboard exercise routine. We're pleased to introduce to you the joys of Technogym equipment alongside the 'mywellness' app.
You run this route each time you arrive in Cassis. You know the curve of the coast, each cove and the gradient of every incline and decline. You know where you can relax and where determination is necessary. Turning inland, you know that at the top of the track the views will make it all worth it.
Many of our favourite routes have their own narrative and structure. The ritual of running a familiar route is motivating and helps us judge our approach. Following the muscle memory of a familiar run also helps promote good posture and can reduce the chances of repetitive strain injury. But what about when you're on charter and between destinations? How can you transfer exercise of this quality into superyacht gyms?
With the Technogym treadmill in conjunction with the 'my wellness' app, you can achieve this wherever you are. Whether it be an ambitious mountain run or your daily routine, a pleasurable workout is always at your feet, as the treadmill is able to replicate the route you previously took using changes in gradient and speed. The system also utilises Google Maps' GPS tracking software to give you a live update of your progress along the route.
'I think fitness technology should be as close as possible to sport in its essence', says Linda Hedenstrom, personal trainer and former olympian. 'It's always much better if you can run the distance rather than use a machine'. Now it's possible to do both.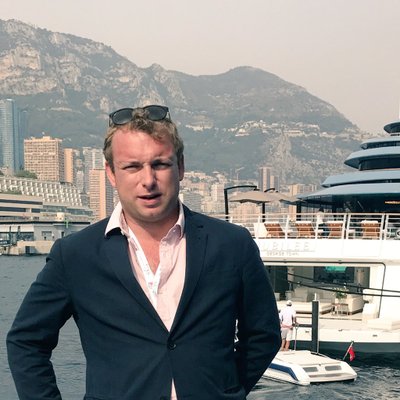 Director & Founder – Gym Marine Yachts & Interiors. 
I began my career onboard superyachts working for some of the world's most discerning clients, finding health & fitness to be a common passion amongst all of them. Starting Gym Marine at 24 has been my proudest achievement yet, and today we are striving to become world leaders in our field.