Most yachts look great cruising through the water, but what about when they are stationary? This is a question which, when posed to me by graduate designer Chris Lane, makes me stop and think a little.
Some boats do look great at anchor; Kleven's 116m ULYSSES is definitely one that springs to mind, and so too does Abeking & Rasmussen explorer CLOUDBREAK. The common denominator between these two, aside from them being world renowned explorer yachts, is surely the inclusion of more vertical lines in the exterior profile – a rugged, go anywhere kind of design that conjures visions of high seas and polar ice caps.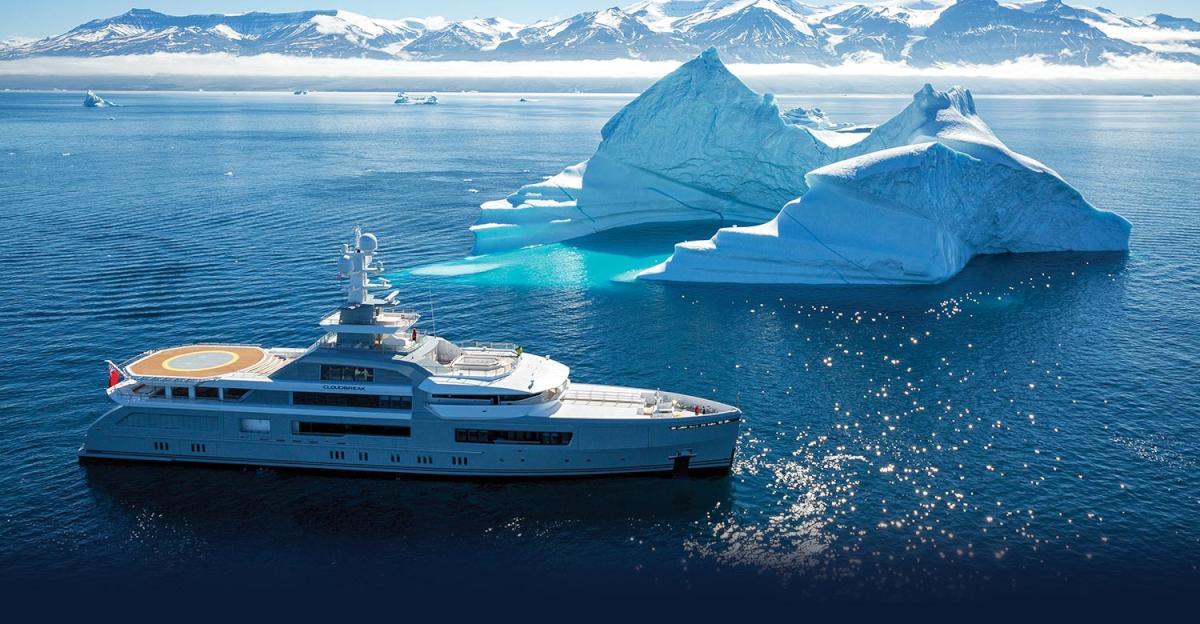 "I think that a lot of superyachts are built to look dynamic in the water," says Chris, rousing me from my temporary voyage in the Southern Ocean, "it must be that the design pattern historically has been for yachts to look fast, and that has influenced the style of profiles over the years while top speed engineering and technology has been catching up."
We're chatting on a Tuesday afternoon amid a busy January preparing for, amongst other things, the annual Boat International Superyacht Design Symposium. Chris Lane, then a design student at Nottingham Trent University, had contacted us in 2018 to ask for our assistance with planning a wellness area on board a concept yacht he had created for his final year project. Having been around the water since an early age, and with a family history of boat ownership, Chris' natural flair for design meant that a career in the superyacht industry was a logical path from the beginning.
"I spent a lot of time as a child in the South of France on family holidays, during which at an early age I would create replica models of yachts I saw on the water out of Lego. These developed into sketches as I grew older and got more into art, resulting in my choice to follow design as a career"
At university Chris decided to pursue product design despite his general interest in transport, knowing that he shouldn't narrow his industry too much in order to maximise opportunities after graduating. Even so, during his second year he chose to focus his coursework on a yacht project inspired by Lamborghini and did some work experience at Sunseeker. This hands-on experience with a real life yachting brand helped him to improve his designs, using Sunseeker's 35m hull as the basis of his work.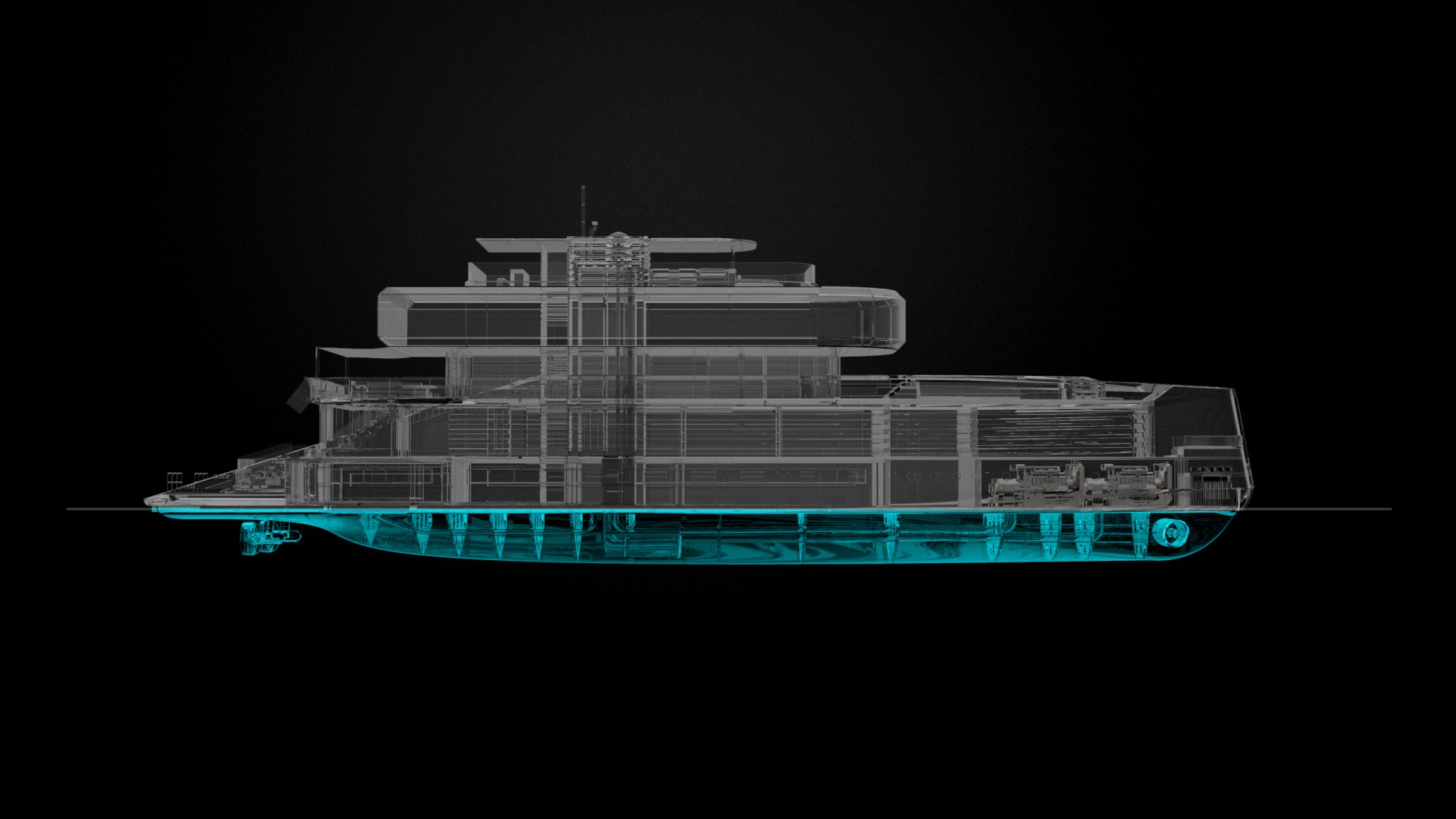 For his final year project, Chris chose to begin a new yacht design based around the ideals of fitness, wellness and Scandinavian design. He travelled to the 2018 Monaco Yacht Show, and there organised a meeting with Feadship, who were happy to help him get going with his concept.
"Feadship were incredibly helpful. They gave me a set of specifications for a yacht that might be the sort of brief one of their clients would bring to them. These included things like cabin arrangements, guest and crew capacity and LOA. The rest was left up to me to interpret."
Thinking carefully about his ideal of creating an exterior that "looked great at anchor", Chris' yacht concept is designed to be a floating piece of architecture, with the idea being that it looks to be emerging from the water and is almost part of it; rather than being seen to sit on top of the water in the traditional sense.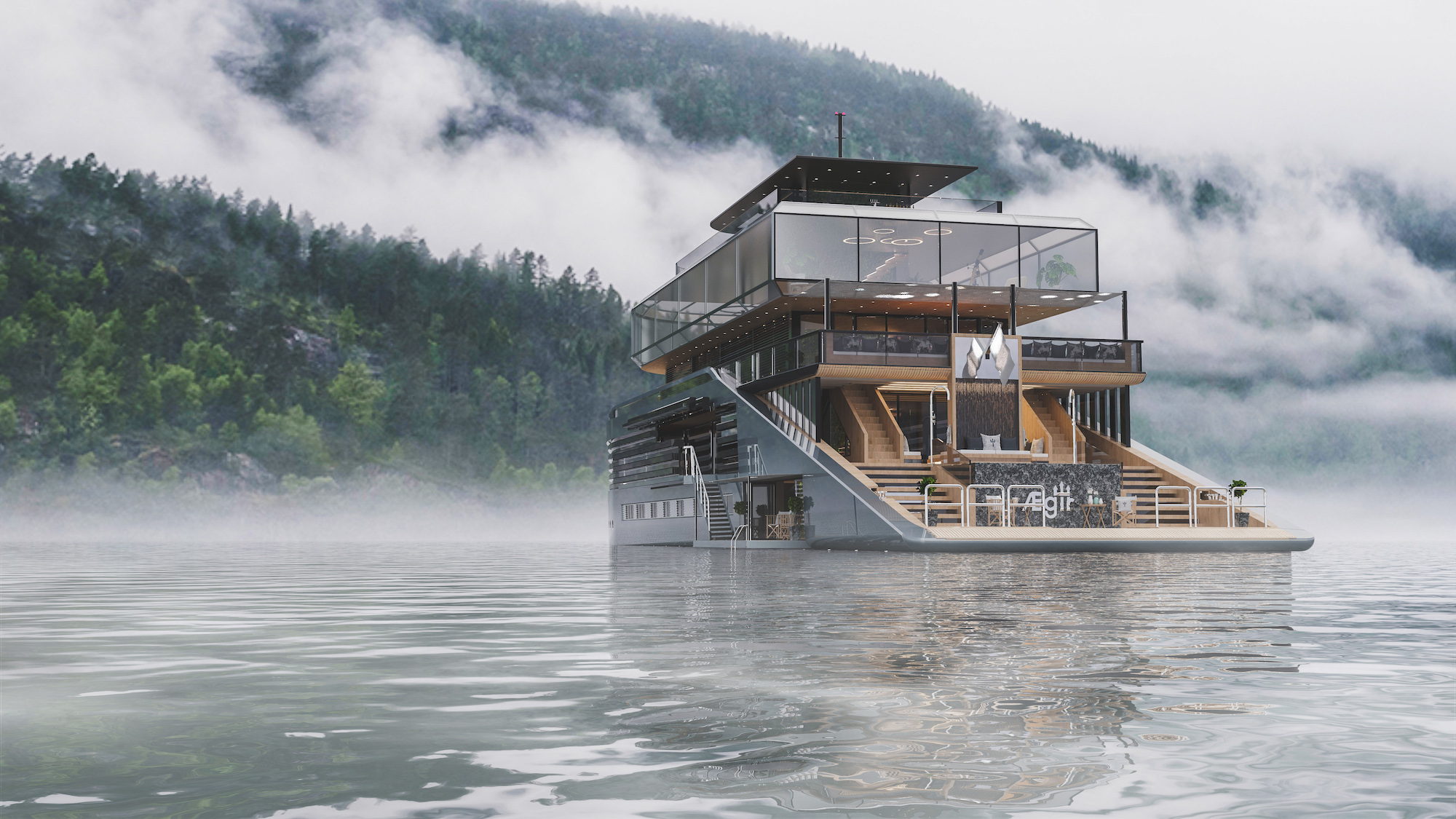 To do this, cues were taken from modern urban architecture – using mirrored glass for the superstructure, which allows for privacy inside but also reflects the environment in which the boat sits. This blurs the lines between the yacht and its environment, and helps it blend with the water beneath it and the horizon behind it.
"You should check out this house in the Netherlands called Villa Kogelhof – it's just the same!" Chris explains, "applying that style to a yacht, which needs to look good underway as well as stationary, was not easy. I wanted to find a happy medium between mainstream yacht design, and the sort of 'motion architecture' you see in modern fast yacht designs."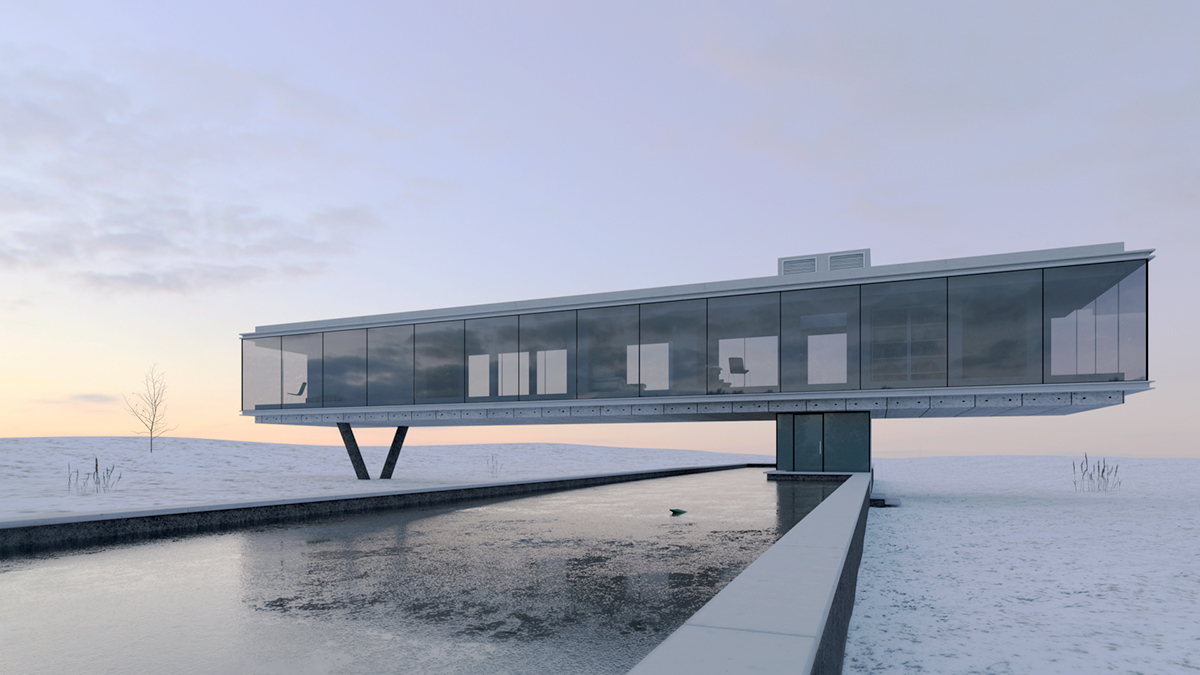 Much of the interior in PROJECT AEGIR is wood, sourced from Scandinavia – a current trend in urban design that doesn't look to be going away any time soon. Indeed, the Scandinavian way of living and embracing family and home comforts known as Hygge, is becoming much more widely known around the world.
"My interior is in keeping with those values, and tries to integrate the Hygge mentality and way of life into the boat. To do this I've focussed on a feeling of warmth & homeliness, using fire pits, hot tubs and plunge pools to encourage guests to enjoy precious time together and a better sense of wellness. There's even a snug with a glass ceiling which acts as an observatory to view the northern lights, the perfect place to escape for a little down time and look up at one of the world's most beautiful sights."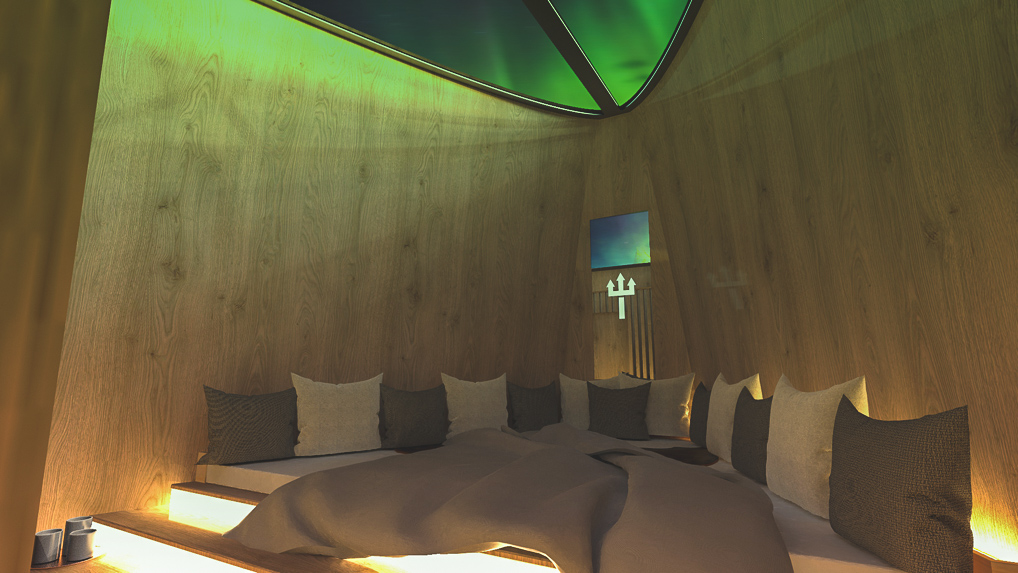 It's no surprise that the boat is not designed to be your traditional Med cruiser then, and Chris envisions that it would be the ultimate boat to charter or own if you wanted to cruise the Norwegian Fjords and explore the Baltic in comfort. To this effect, Project AEGIR would be outfitted with a selection of sea kayaks and sailing boats, but no jet skis. He explains this further: "I want guests to be able to relax and be inspired by nature; to gaze at the Northern Lights and connect with the scenery in a peaceful manner, rather than the usual mix of high octane thrills and parties on the water."
By this point I'm pretty convinced, and that's before he tells me about the gym!
THE SUPERYACHT GYM – DESIGNED BY GYM MARINE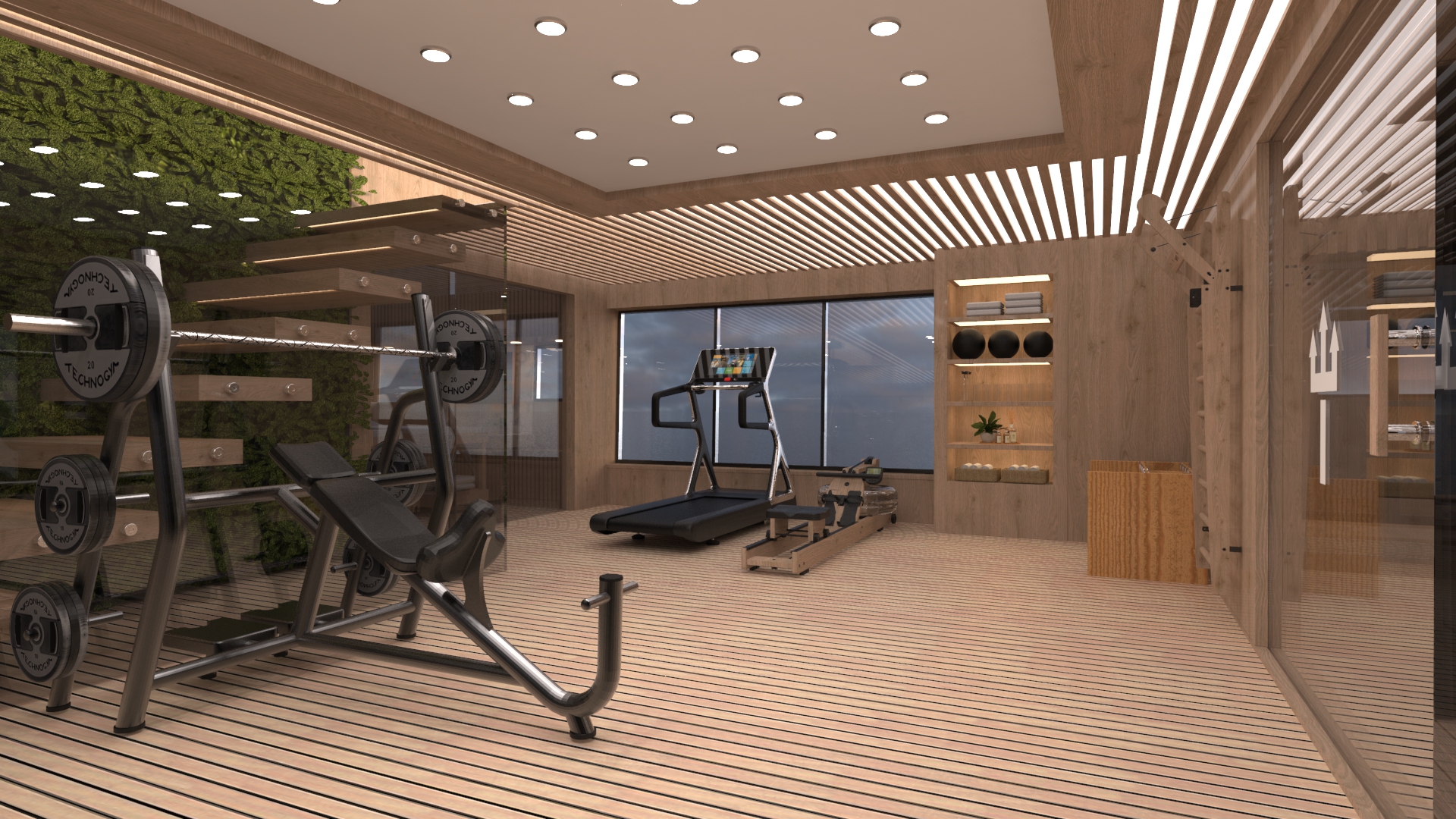 The gym and wellness areas on board Project AEGIR has been given a more-than-generous allocation of space, and this is all thanks to the hybrid propulsion system. With the engines and generators positioned further forward, space is freed up at the rear in the traditional area you would find the engine room – a layout idea Chris found inspiring when he learnt about similar features on the Wider 150.
The gym is situated next door to a 4m swimming pool – and there is even space for a sauna and steam room, to add to the list of Scandinavian pursuits available on this yacht!
We worked with Chris to specify and lay out equipment that would allow for as broad a range of users as possible, while fitting in with the design cues in the interior and adding to the sense of total wellness that the project needed to achieve.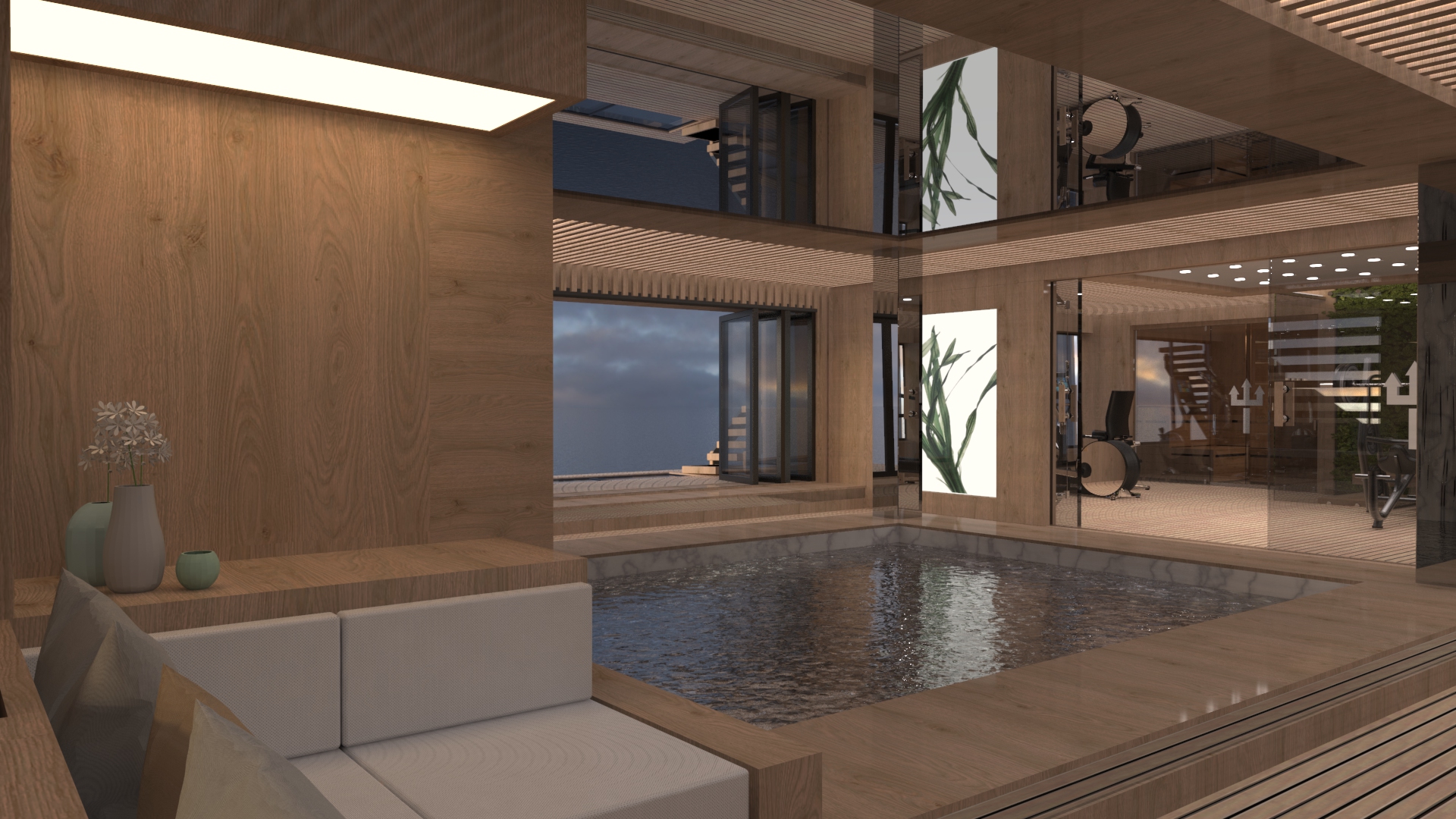 Using top of the range cardio equipment from Technogym's PERSONAL Line, a rich media experience is available at the fingertips of users while the polished aluminium trims reflect the environment around the machines and match the stainless steel used elsewhere in the yacht's design. Strength training options are added with the inclusion of the mirrored KINESIS Personal Vision and Element+ Bench Press, also from Technogym. Lastly, to pay homage to the spirit of Scandinavian design, a WaterRower and a set of Wallbars from NOHrD were added into the mix, both of which are themselves constructed from Scandinavian wood.
The gym has plenty of natural light and open space, something which often is hard to achieve even on larger boats. It has its own special connection to nature, with large glass windows at sea level and drop-down doors which can be opened up to circulate natural air through the room. Overall, the space is beautifully conceptualised, and the equipment looks perfectly at home inside it. There's no compromise on a workout due to aesthetic choices either – something we always strive to achieve with our own designs at Gym Marine.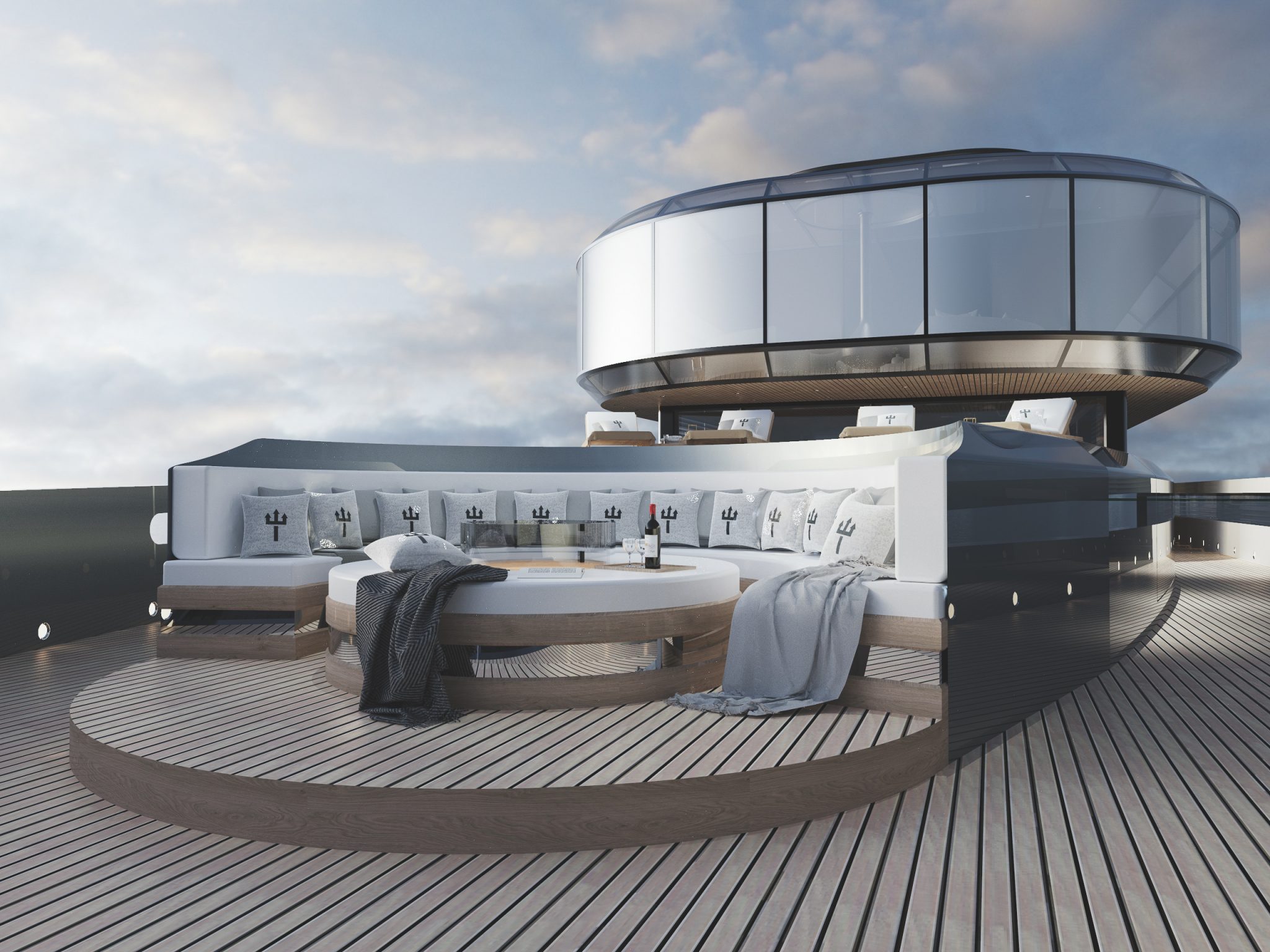 So how has PROJECT AEGIR been received? Chris tells me that overall it went down really well and that he was commended on his 2D and 3D visuals, with the gym and spa area receiving unilateral praise.
"Feadship were really pleased," he continues, "although they told me that overall the design could have been a little less busy." Great feedback, and food for thought from one of the true greats of the yachting industry. "What's next then?" I ask, bringing our interview to a close, "Well I'm now unemployed!", laughs Chris, "I'd love to get a start at a firm like Winch Design, as it would be a great way to develop my skillset and understanding of the industry. I'm definitely going to be looking to sink my teeth into a new concept soon as well to take with me to potential job meetings."
Chris, we wish you all the best!
TALK to us about your own gym design project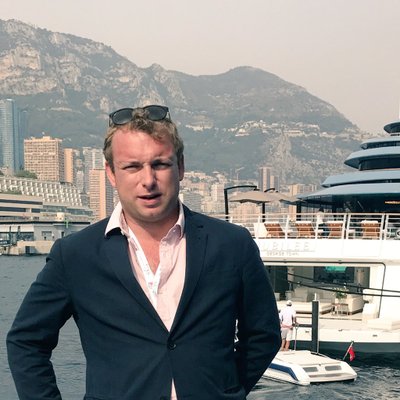 Director & Founder – Gym Marine Yachts & Interiors. 
I began my career onboard superyachts working for some of the world's most discerning clients, finding health & fitness to be a common passion amongst all of them. Starting Gym Marine at 24 has been my proudest achievement yet, and today we are striving to become world leaders in our field.