Everybody knows that strength training is an important part of a well-rounded workout. Whilst Olympic barbells have their place (along with cable machines and multigyms), exercising with lighter free weights also offers a good degree training benefits. Aside from coming with a lower risk of injury, light weights are great for improving muscle endurance with increased reps. These can be completed without a break bringing extra cardiovascular qualities to a weights workout. They are also great for toning and are very popular among those looking to improve their form before moving onto heavier weightlifting.
Like many things in the gym though, free weights can be bulky. Space usually always comes at a premium when considering gym design, so finding innovative storage solutions is always a high priority for us and our clients. Enter the Technogym Wellness Rack…
Why we love it: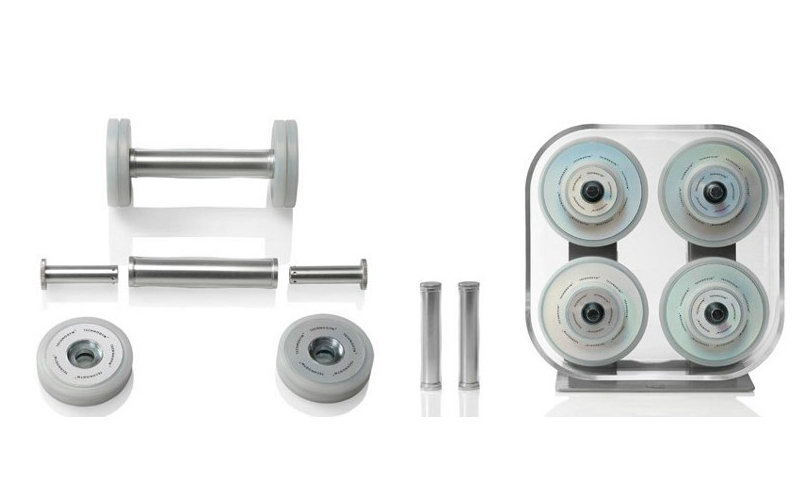 This beautiful compact weight kit is designed to maximise functionality whilst having a tiny footprint for storage. In fact, it's so small that it can fit neatly onto a windowsill or be tucked away on an easily accessible shelf. Created with the home gym in mind the Technogym Wellness Rack has a number of key features that make it easy to use and robust.
The loadable dumbbell handles make changing between weights simple and efficient, whilst the training experience does not differ from standard professional dumbbells and the transparent rack is made from polycarbonate, which is as sturdy as it is lovely to look at. To protect the disks from damage, or from damaging anything else, they are trimmed with silicone meaning they won't be leaving any marks on posh gym floors.
With a weight range of up to 10kg for each dumbbell, this kit is ideal for anyone looking to incorporate some extra kg-s in body weight exercises. This might be to try to improve overall body tone or when you're starting out and looking for a weight selection that will help improve strength incrementally.
buy the Technogym Wellness Rack
more dumbbells from Technogym
Marketing Manager – Gym Marine Yachts & Interiors.
Marketing for Gym Marine is a total joy. My days are spent investigating new exciting gym equipment, catching up with our manufacturers and constantly finding new ways to reach you, our fantastic customers. If you have any queries or want to talk all things marketing, drop me a line!