Technogym are trailblazers when it comes to creating beautiful and cutting-edge designs, which is why they are so popular with our home and superyacht gym design customers. They are constantly introducing new concepts into the marketplace and with indoor cycling more popular than ever, their recent release of the Technogym SKILLBIKE couldn't have been more timely.
Indoor cycling (or spinning) classes have become popular all over the world. Now with the advantage of impressive virtual experiences, as well as fantastic classes that can be accessed remotely; more are choosing to pedal from the comfort of their own home. The technology for these bikes is improving all the time,  but there has been one ongoing bugbear. The quality of the ride.
For many of the keen cyclists among us who are opting for the convenience of indoor cycling, there has been continued disappointment regarding the fact that it just doesn't feel like the great outdoors. The Technogym SKILL BIKE is tackling just that and whilst you won't feel the wind in your hair or splash through puddles on mountain tracks this bike provides one of the most realistic experiences yet.
Why we love it: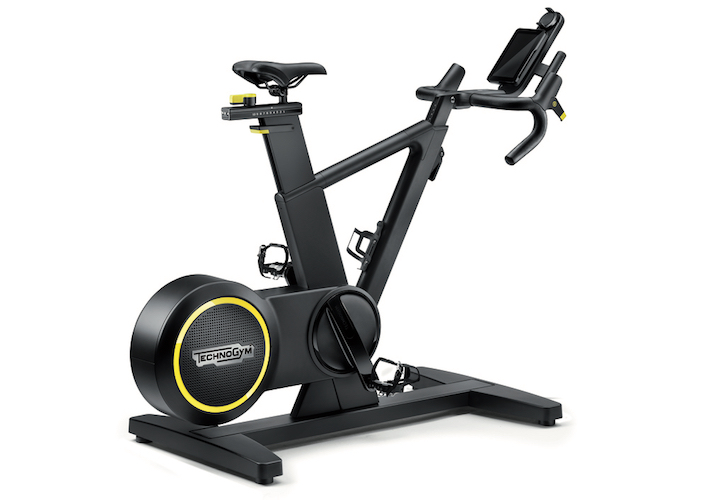 The Technogym SKILLBIKE was designed with cycling lovers in mind. This is a bike that is all about the experience and it has been created to be as realistic as possible whilst making the most of what indoor cycling can offer. One of its key features is the real gear shift and it's the first bike of its kind to include this. Through the shifting of gears, users will counter the resistance for hill climbs, improve performance and maximise efficiency whilst following their progress via detailed metrics on the large console.
Going a step further to create a realistic riding experience, this SKILLBIKE's riding design reproduces the biomechanics of outdoor bikes. The frame and handlebars are designed for a variety of different riding types including those such as mountain, road or time trial environments allowing the rider to make adjustments depending on their needs for position and posture.
The road effect system is also a great feature which focuses on weight and pedalling style. Technogym's patented system allows the SKILL BIKE to react to these and other specially chosen parameters to add to the feeling of being outside. Another characteristic for improved performance is the pedal printing technology which gives continuous feedback via the console on circularity and symmetry of your pedalling stroke at the different gear ratios. This helps to improve efficiency and brings noticeable improvements to overall performance.
The 7 inch LCD console is the icing on the cake for the SKILLBIKE. With an array of virtual routes to choose from riders will push themselves to the limit as they climb up winding mountain tracks and power through valleys completing courses designed to push the body to its absolute limit. The console display offers in-depth real-time statistics that keeps users updated on their performance as well as measuring against target goal or best time to encourage continued maximum effort.
Finally, for those that are using the SKILLBIKEin their home gym but are looking for the excitement of competing with others, you can download the Zwift app straight to the console and train with cyclists from all over the world. Or, for new routes and terrains why not download Strava, with so many options to choose from, you'll never run out of new places to explore.
BUY THE TECHNOGYM SKILLBIKE
MORE FROM THE SKILL LINE BY TECHNOGYM
Marketing Manager – Gym Marine Yachts & Interiors.
Marketing for Gym Marine is a total joy. My days are spent investigating new exciting gym equipment, catching up with our manufacturers and constantly finding new ways to reach you, our fantastic customers. If you have any queries or want to talk all things marketing, drop me a line!