When I founded Gym Marine, most people told me it would never work.
"There aren't enough boats" was one of the most common responses, along with "we just get our kit from Decathlon" or some other insistence that yacht owners did not care about their onboard work out space; or at least not enough to warrant our hopeful business plan.
I made my first sale on the dock in Imperia, during an afternoon tea break whilst in my then-fulltime job as Bosun onboard a 44m Heesen called Lady L. We'd been washing down the transom and it was one of those baking hot days in Italy where the whole land seems to shimmer. A friend got in touch and said she'd heard I was testing the water with a start-up business selling yacht gym equipment, and that her captain was after some parts for his rowing machine plus a replacement unit for the boss. I think we lost about £14 in the end after some sort of delivery mishap but that didn't matter. Boats wanted gym kit – and that was enough for me!
In the nearly 5 years that have passed since that gorgeous day in Italy I have been immensely proud to have designed and delivered superyacht gyms onboard the world's largest motoryacht (DILBAR – volume) and sailing yacht (BLACK PEARL). We've crammed crew gyms into tiny spaces below deck, converted unused libraries into bright training spaces and set about curating ranges of the highest quality superyacht gym equipment for use in tough environments onboard polar explorers.
My job is not easy, and for the most part has very little to do with fitness itself. After all, like most yachting functions our day-to-day activity at Gym Marine is dominated by logistics and deadlines; rather than lateral raises and leg extensions. Understanding the operations of a superyacht and juxtaposing these with the demands of a gym user is one thing, but managing and delivering the logistical elements that underpin these beautiful workout spaces is a full time job in itself!
So here are 5 Superyacht Gym Design lessons I have learnt the hard way since starting Gym Marine:
1. It's always going to rust
One of the driving forces behind founding the company was a certain set of Escape Dumbbells we had onboard M/Y HAMPSHIRE. Made from mild steel and plated with chrome, the deck team had assumed that due to their shine they were stainless steel. Out came the Flitz polish (very abrasive) and off came the 0.25 micron chrome plating, exposing the incredibly corrosion-friendly mild steel to warm, salty Mediterranean air. Needless to say these weights were a beautiful shade of orange before the season had even started!
2. Yacht owners are incredibly tall
When we first approach a superyacht gym design, our opening question is either 'how high are the ceilings' or 'how tall is the owner'. The reason for this is, of course, that boats do not famously have high ceilings. I am often shocked at how consideration is not given to ceiling height in superyacht gyms at the very earliest stage in the naval architecture process, particularly when cardio equipment with large step-up heights are involved.
In the last few years we have worked on more than a few new build projects where the owners have been 195cm+. Creating gyms for these lengthy (and wealthy) clients is the sort of challenge that I relish the opportunity to tackle alongside the project team, after all – there's something out there for everyone.
3. You can only relax once you're 100% certain its onboard…and even then don't relax
I fully expect to have lost all of my hair by the age of 30 (I'm 26 now)! Delivering goods to consumers in the modern era of Amazon Prime is stressful enough, but when your clients addresses change every 12 hours and the boss absolutely NEEDS his new cross trainer before he has his eggs tomorrow morning, stress levels in our office can sometimes boil over.
Our Chief Engineer Jon once spent an entire day chasing a very large yacht up and down the Cote D'Azur, only to finally get onboard to do a scheduled gym service just before midnight. Halfway through the reassembly of a cross trainer he glanced up to see the water swishing past the porthole and the moon reflected in the waves. He was on his way to Sardinia after a last minute request from the boss upstairs!
4. You've got to love your suppliers more than you love yourself
At Gym Marine our whole business is built on the base of suppliers we have gathered together over the past 5 years. And what a great bunch they are! Working closely with our contacts at some of the world's best fitness and wellness brands has taught me a vast array of lessons in design aesthetics, project management, A/V technology, logistics and customer support. The great relationships we built with our suppliers allows us to offer world leading service to our superyacht gym customers, and we are proud to be representing global companies such as Technogym, Concept 2, Life Fitness and many more within our special marketplace. Just taking this opportunity to say a big "thanks for everything you do for us guys".
5. The sky is the limit, but the sea is home
This year our company has grown really fast, and we are working hard to ensure that as we start to tackle new marketplaces and sectors such as home gym design and spa equipment, we still remain focussed on delivering the best possible experience for our superyacht customers. As an ex crew member its important for me to remember why I started Gym Marine, which was an opportunity to remain connected to the industry I love whilst not having to clean scuppers ever again! Our yachting heritage will remain with us for as long as the company continues to trade, and we will always continue to strive to be the global leading experts in superyacht gym design.
So if you're on the look out for a new crew treadmill, or the bike on the sundeck is starting to look a little tired, then I would still be as thrilled to hear from you as I was on that first day in Imperia. You can contact me via the author profile below, or make a general enquiry here.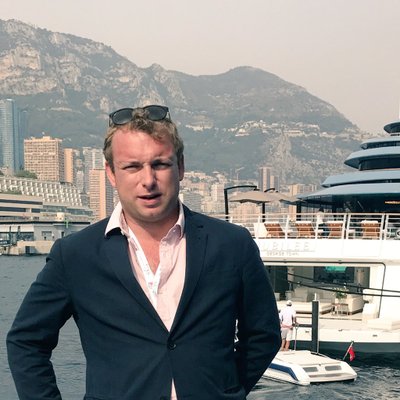 Director & Founder – Gym Marine Yachts & Interiors. 
I began my career onboard superyachts working for some of the world's most discerning clients, finding health & fitness to be a common passion amongst all of them. Starting Gym Marine at 24 has been my proudest achievement yet, and today we are striving to become world leaders in our field.