Reducing stress and creating a supportive working environment is vital for the health and wellbeing of employees. A variety of schemes and programs are available to support this, however, there is one that offers an abundance of perks, an office gym. Drawing on our knowledge and experience, we have collated our top tips on what to consider for your office gym design to please all your staff.
Create a space to support health and wellbeing 
An office gym design is more than putting exercise equipment into a room, it is creating a space which your employees will want to spend time in. Firstly, you will need to find somewhere in your building which can support the numbers within your organisation or if you have the option, potentially extend. Other factors to consider when selecting the location for your office gym include acoustics, as noise could travel and disturb staff whilst they are working. Changing facilities also need to be taken into account for your office gym design, as people will be exercising before work or during their lunch break.
When deciding the layout for your office gym design, it can be tempting to fit as much equipment as possible into your chosen location. However maximising floor space without overcrowding is easier than you may think. There are a wide range of multi-functional machines which will save space without having to compromise on exercise options. Another solution is converting existing cupboards or creating smart storage for accessories such as kettlebells and mats which will use minimal space. Furthermore, when deciding the layout for your office gym design, zoning specific areas for activities such as cardio, strength, functional training etc, will improve workout flow and ensure floor space is maximised.
By forward-thinking your office gym design, you can ensure that all elements are considered to create a space which encourages staff to invest in their health and fitness.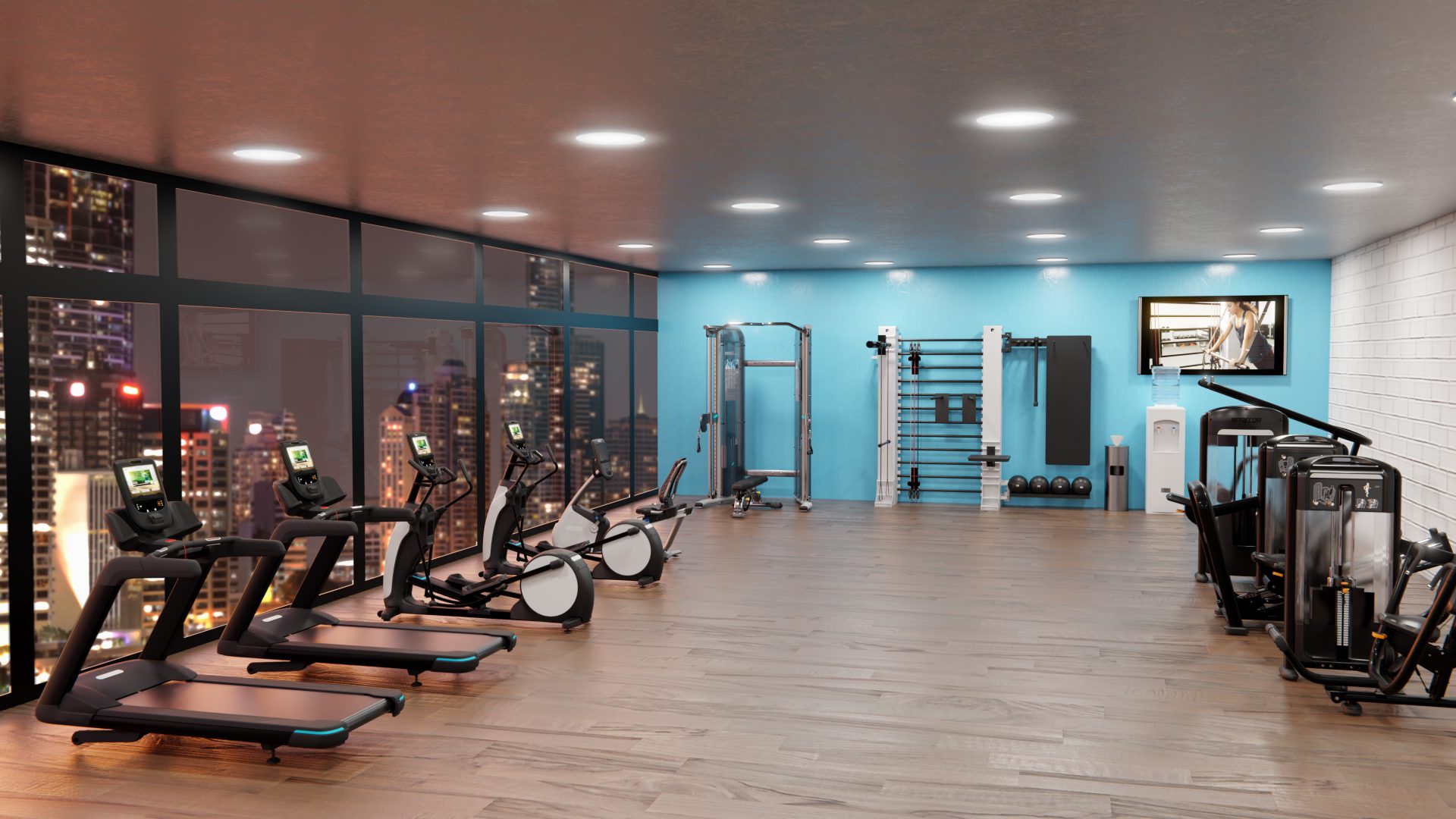 Choose gym equipment to meet all needs 
An office gym will be used daily by multiple employees and everyone will have different demands regarding their fitness needs. Sending out a survey is a great way to get an initial idea on what would be most popular in your office gym design, as you won't want to spend money on equipment that won't be used. It is also a great tool to gain insight on how many employees would be using the facilities. From our experience, cardio is always a safe bet in an office gym. With a wide range of machines available including treadmills, bikes, rowing machines and cross trainers, they are suitable for all fitness levels. Also available with compact dimensions, they will help you achieve a spacious office gym design.
Due to consistent use, warranty is another important factor to consider when selecting your range of machines for your office gym design. Health and safety is imperative especially in the workplace and you will want to ensure they can be fixed quickly without costing you extra. Most brands will have their warranty terms and conditions easily available, therefore it is worthwhile taking time to review these.
The fitness industry is continuously developing new products and trends, with this in mind it is beneficial to leave space within your office gym design. Then, when a new machine or workout launches, you can meet the demands of your employees.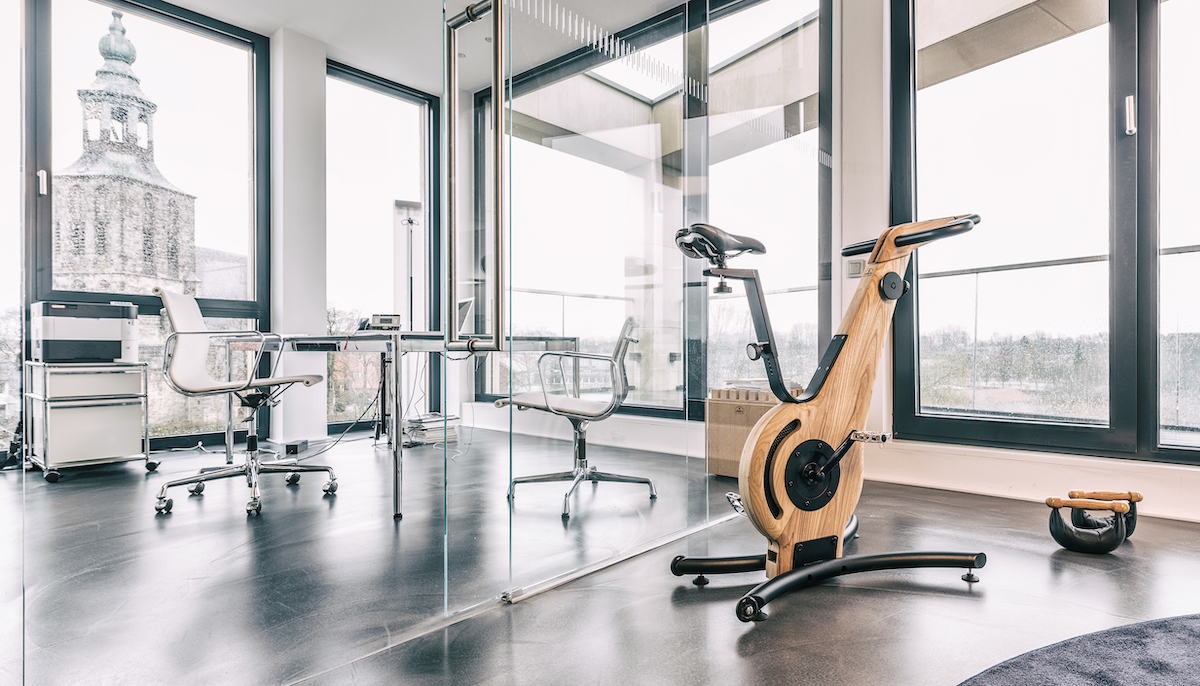 Use your office gym design as an opportunity to offer something different
An office gym is great for employees who regularly workout, but struggle to fit it in to their daily routine. It is important to encourage all staff to take advantage of the facilities as it can benefit their work life by increasing productivity and reducing sickness.
Inviting a fitness instructor to teach classes can give confidence to those who have limited experience at gyms as it can be daunting for some. This is another consideration for your office gym design, as you will need to allocate an area or build a studio for group workouts.
How we can help with your office gym design
We can support your office gym design through every step of the journey. From the planning process and deciding the layout, to offering after care.
At our most recent office gym design project we provided an onsite induction to over 200 staff. Broken down into smaller groups, we gave demonstrations of equipment and answered any questions. In the future they will receive ongoing maintenance and service. In addition, we also offered follow up training sessions two times a year at their office gym.
Some of our favourite office gym design equipment
Browse recent office gym design projects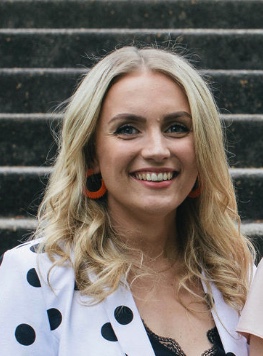 Marketing Executive
Creating exciting content and updating our wide range of products is what I love doing at Gym Marine. It's always great being able to showcase our fantastic projects and engage with customers online. For any marketing related enquires, get in touch!