Group exercise classes and high-intensity interval training have been noted by the BBC as two of the most popular trends of 2018 (article: Saving pounds: The rise of the budget gym), so this week we've picked a product that is a key feature in both.
The Stairmaster HIIT Bike is part of a range known as fan bikes (also called airbikes, or dual action bikes). These cardio machines are excellent for interval training and are guaranteed to push you to your limit. Simply designed and much more cost effective than most indoor bikes on the market, these machines get their name from the inbuilt fan which replaces the flywheel. There is no dial to change the level of resistance as instead, the resistance level is controlled entirely by the user. The faster you pedal, the quicker the fan rotates and therefore the higher the resistance. This is fantastic for HIIT training as you are not reliant on making changes to the machine and as you get stronger and faster the resistance will continue to build as it is completely limitless.
Also key to the design of these bikes is that, like on a cross trainer, your arms are moving during exercise for a complete body workout. Use of all limbs results in your core being more engaged as you push and pull using your arms and legs, which is great for calorie burning, strength and toning. It's therefore no surprise these have been popular enough to feature at the cross fit games!
These days there is a good selection of fan bikes to choose from, but this is why we think the StairMaster HIIT Bike is a winner…
Why we love it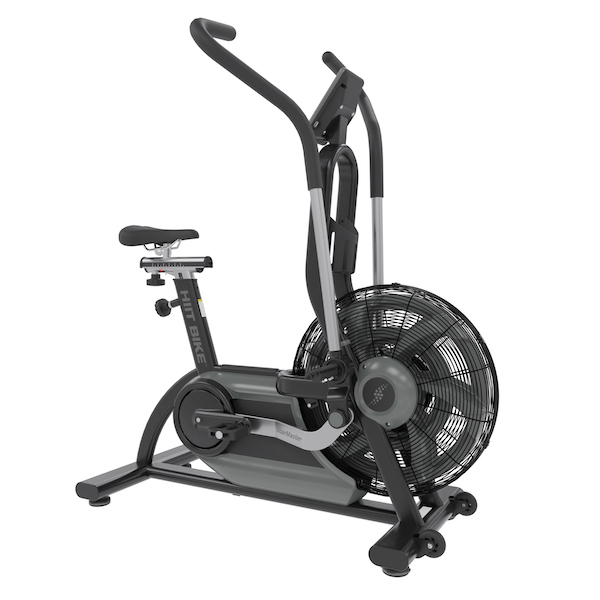 StairMaster, the creators of the HIIT Bike have long been advocates of high-intensity training and most of their products have been designed with that purpose in mind. This bike has been described as a machine that is meant to
'push you past your breaking point and keep you working long after you can't'
…
Unlike many fan bikes, the StairMaster HIIT Bike is welded together instead of bolted. This provides maximum strength and stability, so for even the toughest rider a comfortable workout is assured. The bike suits those of varying heights from 4″11 to 6″11, as you can adjust both the seat height and distance from the handlebars. It also has a new pedal system making it easier to switch to HIIT workouts and shorter arms to improve access to the console. Placing your feet on the fixed pegs next to the fan allows you to engage the upper body only – which is nice if you are trying to target only this muscle group.
The console is backlit making it easy to read and it can track your workouts as well as connect to your phone via Bluetooth enabling you to save and share your results – great motivation if you're trying to monitor improvements over time!
It's not called the misery machine for nothing though, a session on the StairMaster HIIT Bike will seriously put you through your paces. But, if you're after a fantastic workout that will give you real results, you won't find much better.
Buy the Stairmaster HIIT Bike
Marketing Manager – Gym Marine Yachts & Interiors.
Marketing for Gym Marine is a total joy. My days are spent investigating new exciting gym equipment, catching up with our manufacturers and constantly finding new ways to reach you, our fantastic customers. If you have any queries or want to talk all things marketing, drop me a line!