An Instagram account named 'Overworked Crew Member' has managed to perfectly epitomise the at-times ridiculous levels of work that crew members put in on board. And it's bloody hilarious.
Because if you've been a crew member on a superyacht, and you've never felt overworked, then were you really crew?!
We managed to grab a very hard- to- find five minutes with @overworkedcrewmember to find out a little bit more at just how she manages life- on- board.
Overworked crew- this one's for you…
Q: SO, FIRST QUESTION: HOW DID YOU GET INTO YACHTING?
A: Well, it was actually by accident really. One minute I was working as an extra on the set of the first Pirates of the Caribbean (Johnny Depp and I became really close then…) and I realized that I just loved being on that great big pirate ship. It was then and there that I decided being on the water was for me, so I made my way to Fort Lauderdale where I got on my first yacht.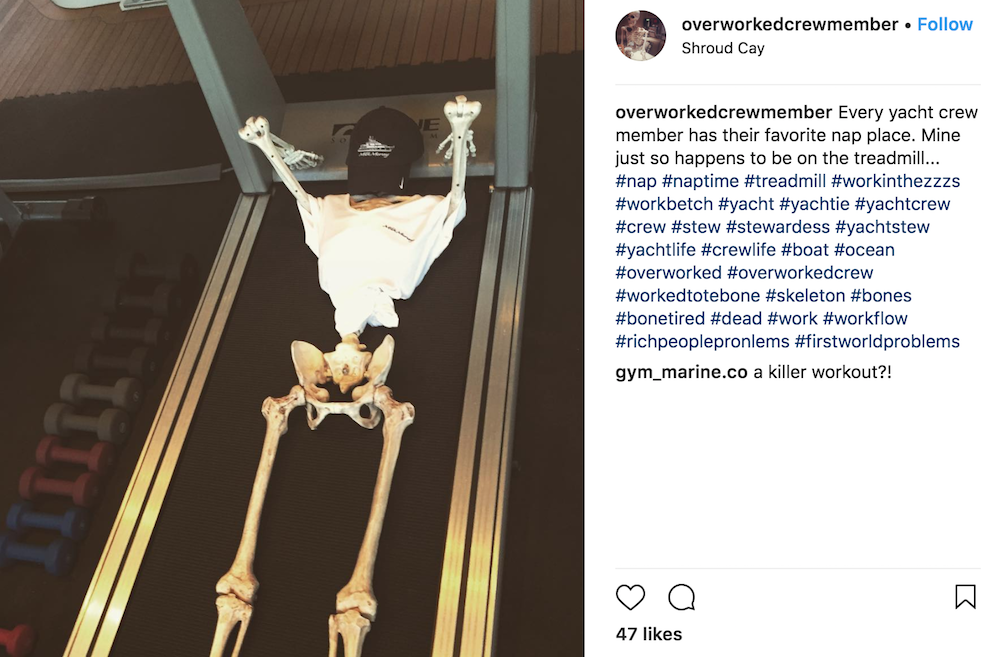 Q: WHEN YOU'RE SO OVERWORKED, HOW DO YOU LIFT YOUR SPIRITS?
A: Other than alcohol, like most yachties? I like to hop on the boats' exercise bike and watch Below Deck on the drop-down TV. It puts me in my happy place.


Q: EVERYONE KNOWS HOW DEMANDING GUESTS CAN BE, DOES NOTHING GET UNDER YOUR SKIN?
A: Pretty much anything can annoy me to the bones – I tend to have a short temper. The worst is when they snap their fingers to get my attention. That makes me want to hurt someone.
Q: WHAT HAS BEEN YOUR FAVOURITE CREW- MEAL?
A: Does a plate of bacon count as a meal?
Q: DO YOU WORK OUT ON BOARD?
A: I try to whenever I can. I love to do yoga, ride the stationary bike, sometimes run the treadmill. I'm not a fan of lifting weights though. I like to stay lean.


Q: HOW DO YOU STAY SO SKINNY DESPITE THE SNACK CUPBOARD?
A: I avoid the snack cupboard like the plague. It's got ramen noodles, chips, cookies, candy – everything bad that is good. Sometimes I feel the urge, but when I feel like I need to eat, I slam a water and then brush my teeth. Believe it or not, it totally works.
Q: WHAT BRAND OF SUNSCREEN DO YOU USE OUT ON DECK IN ORDER TO MAINTAIN YOUR ALMOST GEISHA-LIKE COMPLEXION?
A: They don't let me go outside. It's the ultimate sunscreen.
Q: DO GUESTS EVER FIND YOU HIDING IN THE CLOSET?
A: Once or twice they've seen me hiding around the boat and they do a double take before I slink back into the shadows…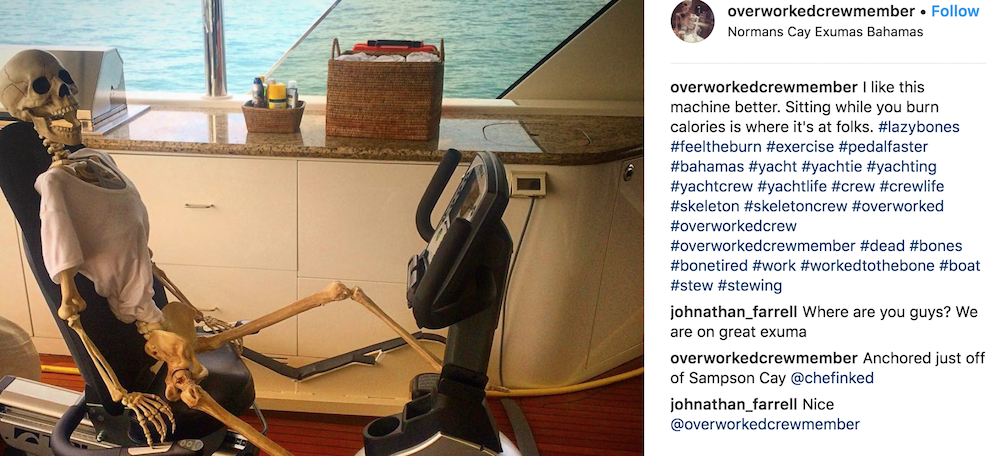 Q: WHAT IS YOUR FAVOURITE DAY-OFF ACTIVITY?
A: Dive Dive Dive! If I can get underwater, I will. Otherwise, I love to get a dirty martini at Olives in the Atlantis Casino, then go down their lazy river all banged up. It's a lifestyle.
Q: AND FINALLY, HOW DO YOU KNOW WHEN YOU'VE BEEN A YACHTIE TOO LONG?
A: When you have a favourite nurse shark at Compass Cay in the Exumas. When your boss takes you to Las Vegas with them on vacation, but you have to do everything they want and nothing you want. When you don't want to sleep around anymore because you're over the drama. When you buy a house after living in a cramped crew cabin on and off for 10 years. When people start calling you a sea hag or an old salt. When you stop putting makeup on or brushing your hair when you wake up because it takes too long and you need the most sleep you can manage to get. When you stop waking up and saying "I love this job!" When you value time off more than you value charter tips. The list goes on and on and on…
Thank you so much for your time Janise! We do hope that you haven't scared anyone off being a yachtie, and one day you can rest in peace…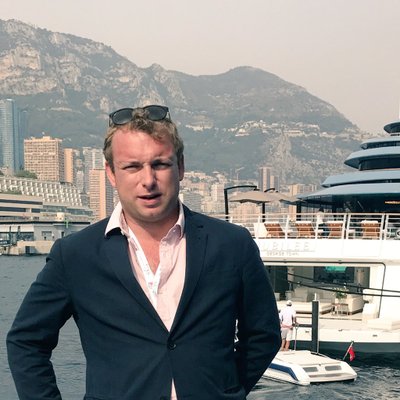 Director & Founder – Gym Marine Yachts & Interiors. 
I began my career onboard superyachts working for some of the world's most discerning clients, finding health & fitness to be a common passion amongst all of them. Starting Gym Marine at 24 has been my proudest achievement yet, and today we are striving to become world leaders in our field.