The Cross Trainer is possibly the biggest rival to the treadmill in terms of gym-popularity.
Like indoor cycling bikes, cross trainers are kinder on the joints than treadmills; and therefore are very popular with a much wider audience. You get what's known as a "low impact workout", as the elliptical motion of the pedals simulates the feeling of walking or running without the risk of getting sore knees due to impact with a hard surface. This is great for elderly users or for sports people recovering from injury. A cross trainer gives users a total body workout. This is excellent for muscle toning, as you're moving both your arms and legs at the same time.
Buying a home cross trainer is often dictated by a number of key factors: functionality, footprint, aesthetics etc, there's loads to choose from. In spite of this we honestly believe that the Life Fitness FS6 ticks every box, and here's why:
Why we love it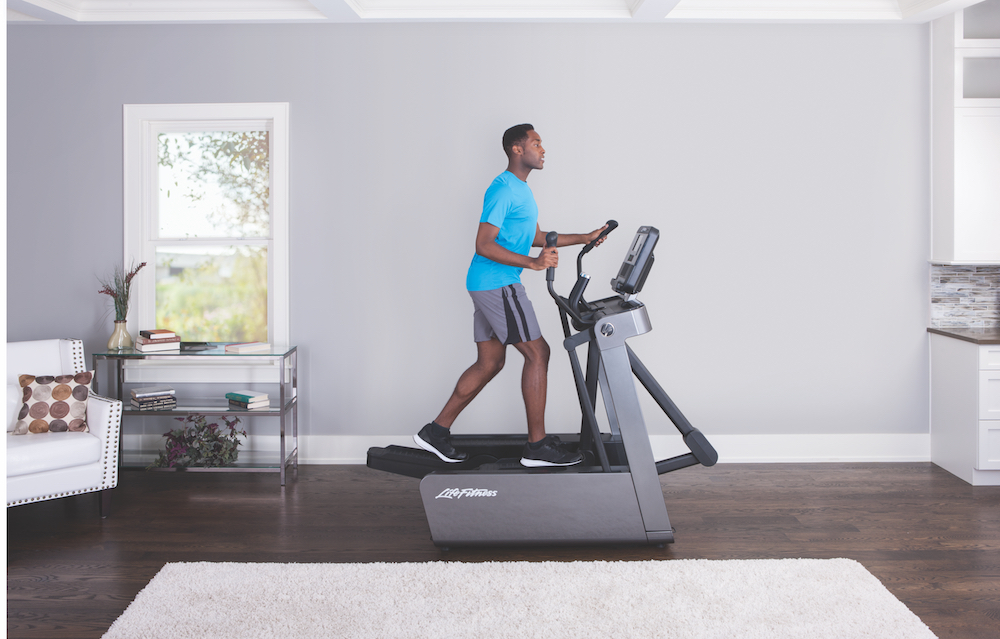 The Life Fitness FS6 Adjustable-Stride Cross Trainer is ideal for home and superyacht gyms where space is at a premium. It is a centre drive elliptical meaning that the flywheel is located in the middle on either side of the pedals, giving it the balance of a rear drive elliptical trainer but without the extra bulk needed at the rear. Combine this with Life Fitness's Slide-Drive technology and an adjustable stride setting, and you an expect a much smoother, more natural ride with a greatly reduced overall footprint – making it a popular choice among consumers.
Another key feature of this cross trainer is its capacity to create a more varied workout than its rivals. As well as attachment points for resistance bands, Life Fitness encourage FS6 owners to make use of the foot platforms in order to perform an 'upper body only' exercise session, using just the arms and varying degrees of resistance. Also, important to note is that the FS6 very easy to get on and off. Unlike most rear drive ellipticals, you can access this machine from behind rather than having to alight on from the side.
Of course, the technicalities are important but let's be honest, if it's ugly and doesn't connect to your smartphone, it's not going to be going anywhere near your brand spanking new gym. Luckily this cross trainer was built with style in mind, and features clean lines, a touch screen console and even a choice of finish in either Walnut or Titanium. The console interacts with fitness apps and wearables via Bluetooth/NFC and will perform updates automatically via wireless connection.
With 20 resistance levels, compatibility with numerous workout apps and an adjustable stride feature that makes it perfect for users of all shapes and sizes, the Life Fitness FS6 Adjustable-Stride Cross-Trainer is an all-rounder and the obvious choice if you're looking for a machine to complete your home gym design.
Buy the Life Fitness FS6 Adjustable-Stride Cross-Trainer
Marketing Manager – Gym Marine Yachts & Interiors.
Marketing for Gym Marine is a total joy. My days are spent investigating new exciting gym equipment, catching up with our manufacturers and constantly finding new ways to reach you, our fantastic customers. If you have any queries or want to talk all things marketing, drop me a line!