A lot of love goes into creating gyms (we should know) and many of our customers aren't just looking to fill a space and tick a box; they want their gym to have a bit of the wow factor. There are of course various ways to go about that, but if you really want to stand out from the crowd…what about having your gym equipment made in gold?
Here's what you'll need to get going with a truly 24 karat gym design project:
Gym80 Custom Low-Row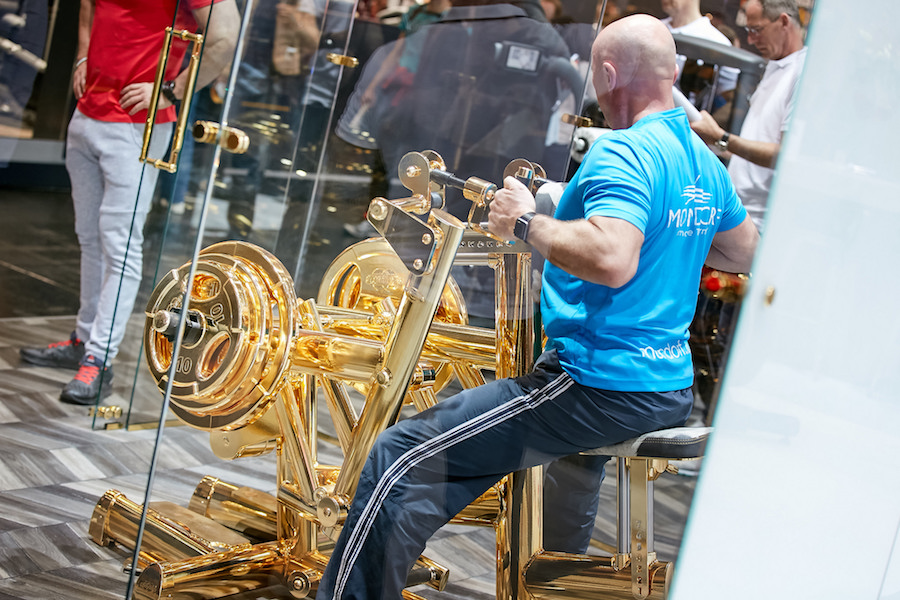 We first saw this bad boy at the global fitness event FIBO earlier in the year and it is even more impressive in real life. This is a limited edition gold-plated finish that you won't be able to buy off the shelf, but if you're looking for something extra special to really make your friends jealous then orders can be arranged. The Low Row is an excellent piece of plate-loaded strength equipment in its own right, so this golden nugget will look great in your gym AND give you epic lats. Win.
Technogym Kinesis Personal Heritage – Hand Painted Gold Leaf Edition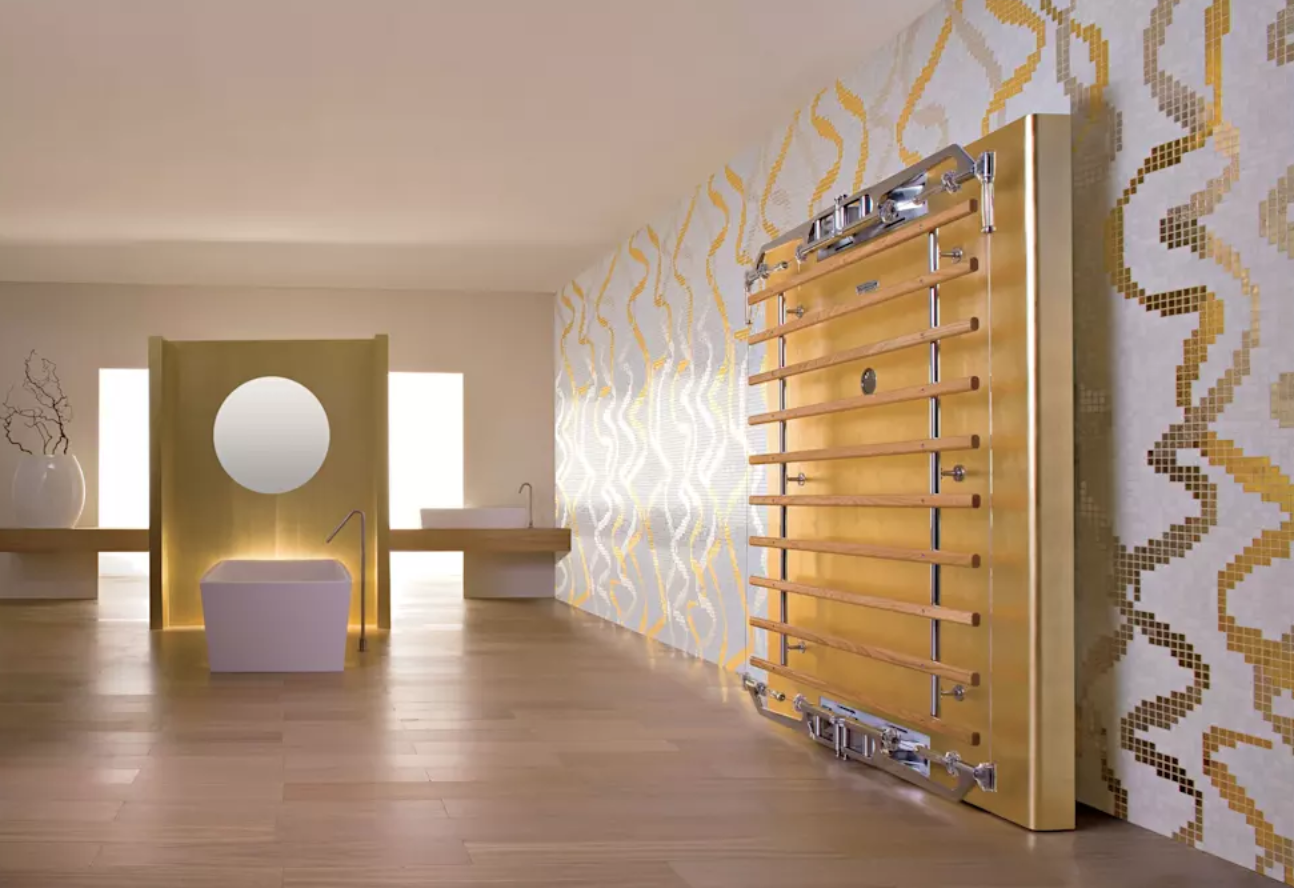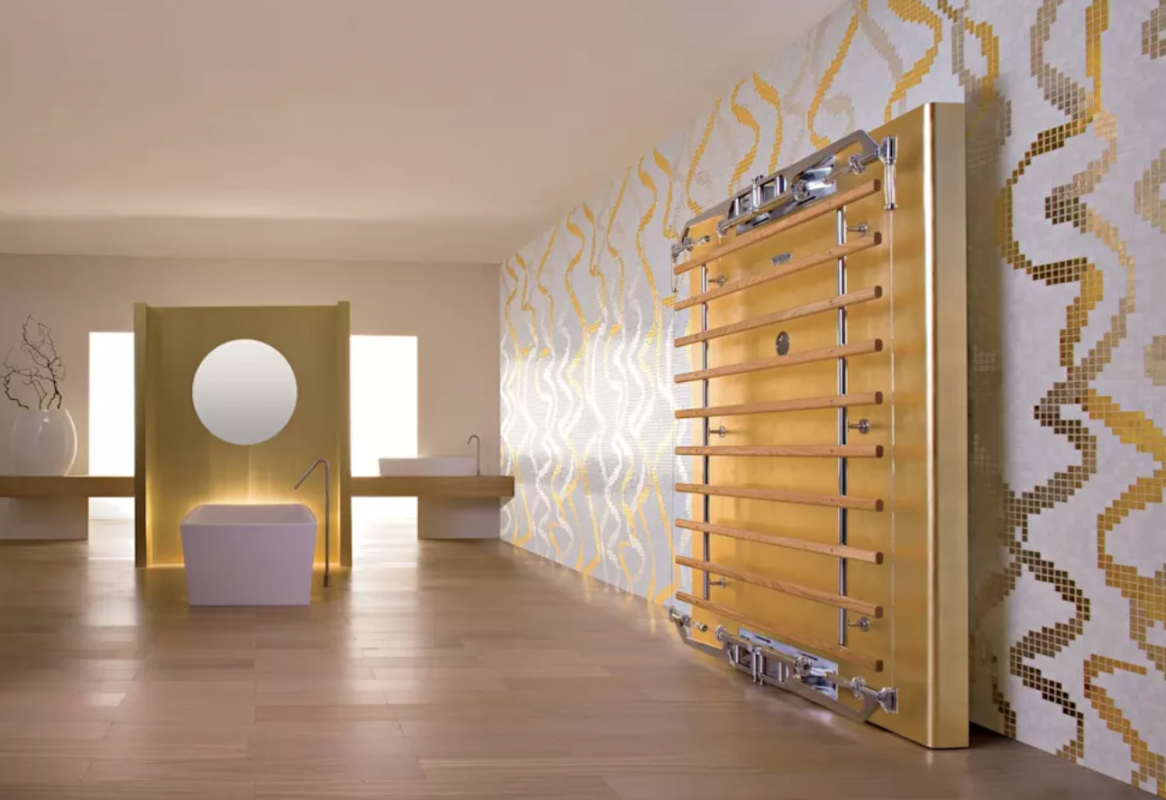 Technogym's Kinesis Personal functional trainer is one that always captures people's attention, and it comes in four different finishes that would look great in any gym. The Personal Line is really the ultimate in designer gym equipment and is probably the most popular range amongst our luxury home gym and superyacht gym clients.
So how do you 'level up' on your Technogym Personal Line equipment when it's already the best thing since sliced bread…? Have it hand painted in gold leaf, of course!
Hock GoldLoft Dumbbells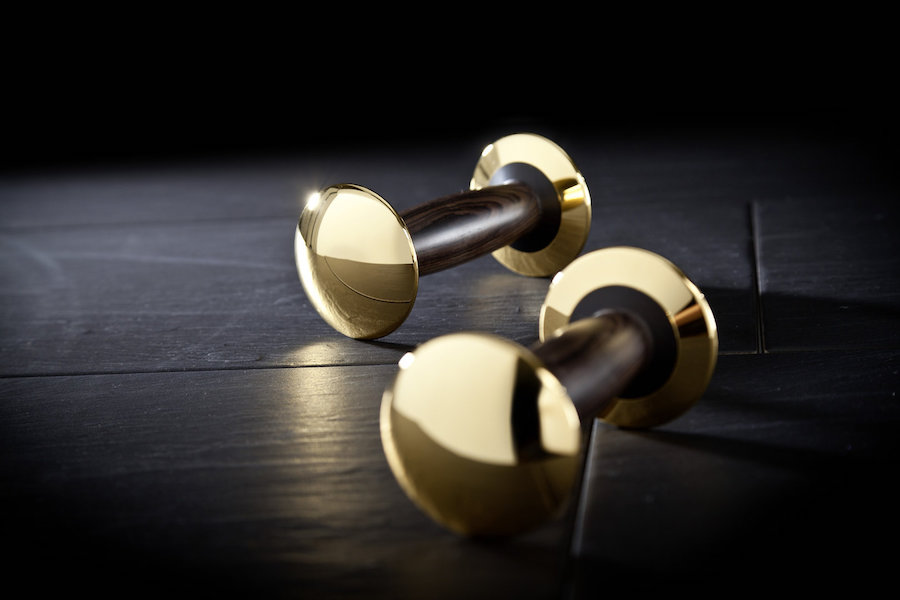 Arguably the loveliest looking dumbbells on the planet and "limited edition" with only 50 pairs available for sale, these weights are the definition of luxury if you're truly looking to create the world's most dazzling gym. Weighing 1000 grams each and made of 18 karat gold (with Grenadilla wood handles) these dumbbells are not just a great addition to your gym, they're also a safe investment too, given that gold is one of planet Earth's longest-standing economic safe-havens. What financial crisis?!
Cybex Eagle NX in Metaltone Gold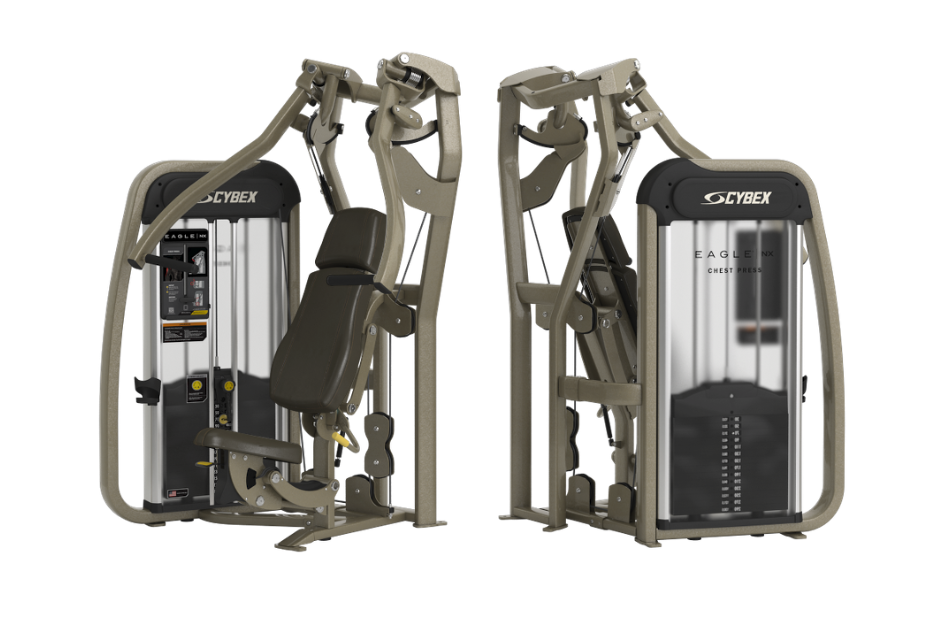 Ok, so it's not as shiny as some of these other entries, but having your gym equipment coloured to your preference is a service lots of our manufacturers offer. Generally, you can choose from a stock colour chart of finishes they recommend, or for a small extra charge per machine, you can choose your own custom colour scheme.
Cybex is a heritage name in strength training and their Eagle NX line of selectorised strength equipment is functionally about as good as it gets. One of their standard paint finishes is 'Metaltone Gold', which for those of you entry level gold gym planners could be a viable option if you're pinching the pennies a bit.
Custom finishes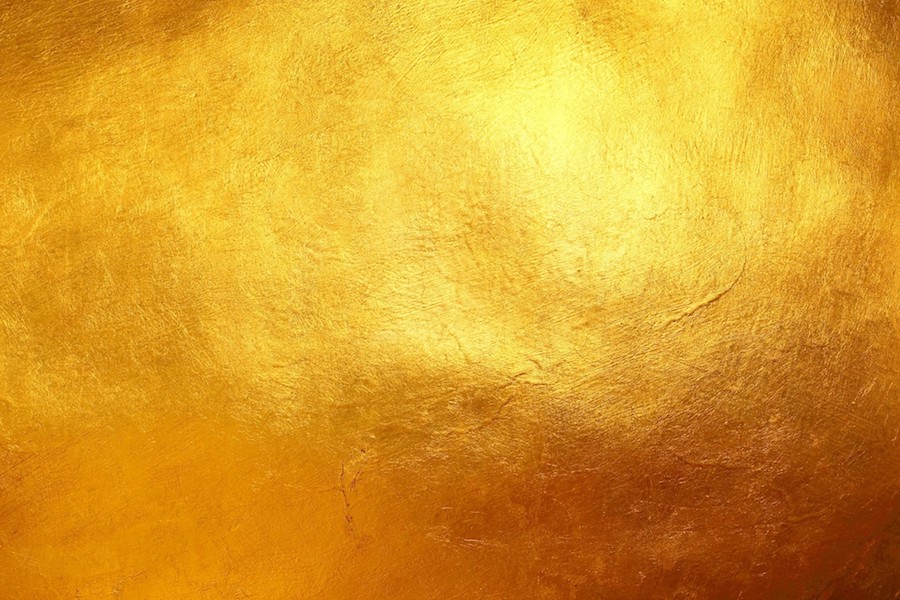 As you can imagine, anything plated in gold or painted in gold leaf is not something demanded by the mass market. It is a luxury finish only for a very lucky few. If this is something you've been considering, you'll be pleased to know that even if you can't find it online, we can produce pretty much anything in a gold finish. Think your gym is missing a gold bike? No worries! A gold treadmill really going to transform the room? We can help with that. Can't imagine rowing on anything that isn't gold? We can get it sorted. Take the Watson Pro dumbbells featured at the top of this post for example – showing off a custom a gold finish specially requested by a client!
As a specialist wellness area designer, we pride ourselves on being able to deliver outcomes that often seem unattainable. If you can't find an off the shelf solution or a piece of equipment that exactly fits your needs, we will work with you to get you exactly what you are looking for and hopefully exceed your expectations!
Marketing Manager – Gym Marine Yachts & Interiors.
Marketing for Gym Marine is a total joy. My days are spent investigating new exciting gym equipment, catching up with our manufacturers and constantly finding new ways to reach you, our fantastic customers. If you have any queries or want to talk all things marketing, drop me a line!