Treadmills are often the 'go to' for cardio workouts in the gym. They're easy to use, your heartrate climbs quickly and they offer huge versatility depending on the type of exercise goal you are aiming for. In the tech-era that is 2018 treadmills come packaged with numerous multimedia options, so whether you want to watch the news, jog to the beat of your favourite songs or play Angry Birds you'll be able to find a treadmill that entertains you from the moment you step onboard.
Problem. There are so many treadmills to choose from, that finding the best one can be a total minefield. So, we've decided to help you out by matching the top treadmills from 5 big-name manufacturers to various types of runner. Don't say we don't spoil you…
BEST TREADMILL FOR ELITE RUNNERS: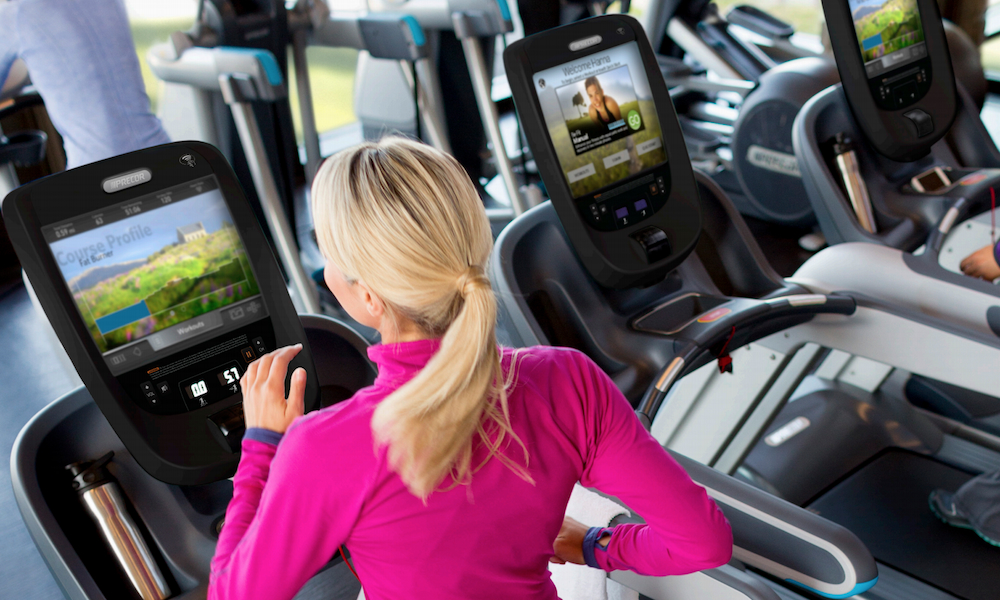 Planning on doing an Ironman this year? The Precor TRM 885 with P82 Console" rel="noopener" target="_blank">Precor TRM 885 should definitely feature in your training. With a top speed of 16mph (25.5km/h) it is the fastest of the bunch and the only one to offer a decline option at -3% – which may be of extra importance to cross-country enthusiasts. And, with a continuous running time of 120 minutes, training for endurance races is just as easy as hopping on for a quick HIIT session.
So what about the console? The new 15″ P82 monitor comes as standard and is powered by an Android operating system. There are 27 preset workout programmes including numerous interval training options. Particularly interesting are the array of gruelling fitness tests Precor have included, such as the Army and Air Force cardio PRTs. All the various apps you would expect are there, plus smartphone and Bluetooth connectivity. Finally, the workout controls are kept separate from the screen and close to your fingertips, meaning its easy to shift through the gears on a long run.
BEST TREADMILL FOR ENTERTAINMENT: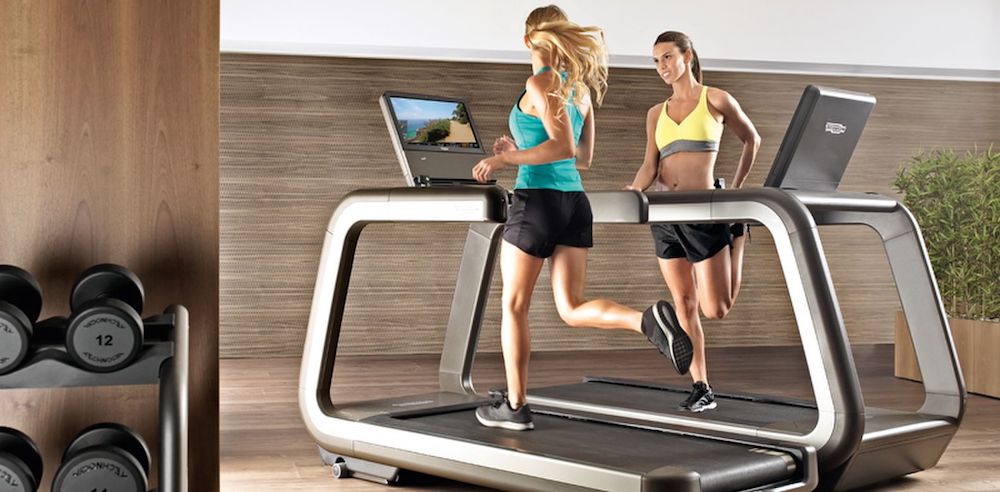 The Technogym Artis Run is without a doubt the tech king – and it doesn't look half bad either! With more apps than you could shake a stick at via the Technogym App Store, as well as a whole host of guided running programmes, it's safe to say your training session will fly by!
For those that like to multitask while they workout you'll be delighted to know that you can catch up on your favourite shows via Netflix, watch live TV and even Skype your friends or trainer while you run. But if you fancy something that will help you focus more on the job at hand Technogym have got that covered too.
The Unity 3.0 console offers a wide variety of training options, all in high definition. If you're fed up with running alone you can race your friends in 'Versus Mode' to battle it out one-on-one, or you can take them all on in 'The Arena'. For those that aren't looking for company but would like a little more variety, there are a great selection of virtual tracks and marathon courses including ones such as Rome and New York that will help keep you motivated to reach your goals.
And of course, there is Technogym's MyWellness Cloud, which you'll find across many of their consoles. With a huge list of third-party connections, users can measure and aggregate data from their other fitness devices and keep the information all in one place.
BEST TREADMILL FOR BARGAIN HUNTERS: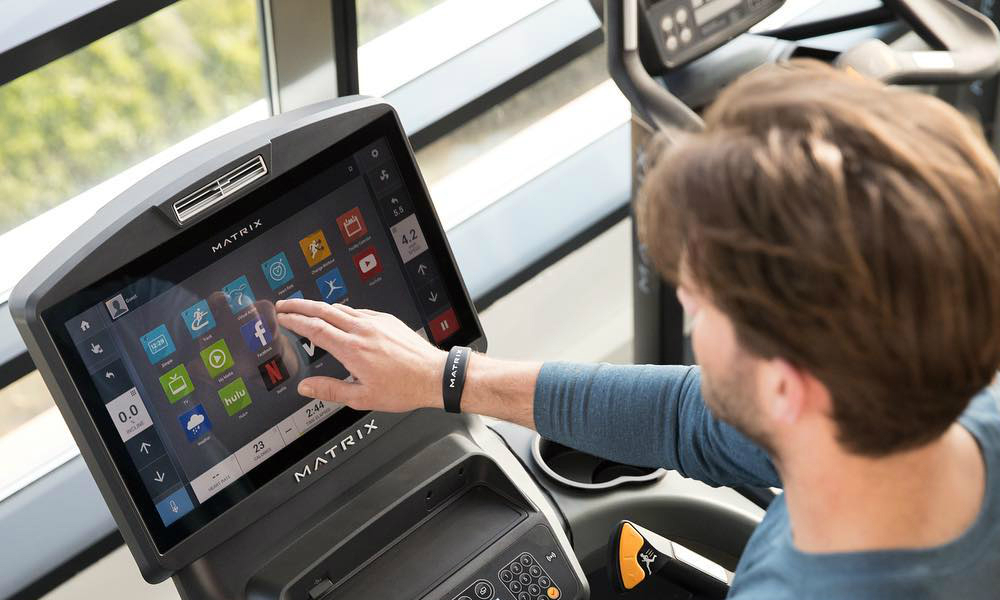 Matrix T7Xe with 16″ touchscreen
Want the best treadmill AND the full commercial grade experience at home, including all the bells and whistles? With their top of the range T7Xe, Matrix pack in everything you'd expect from a top of the range machine at a seriously reasonable price of £10,795 (exc VAT). This is more than £6,000 less than the most expensive treadmill on this list!
If you're after an all-rounder, this machine has everything. With wifi connectivity and compatibility with most smartphones and tablets, as well as a great selection of apps including Facebook and YouTube, you won't be short of features to keep you entertained. The console employs "Vista Clear" television technology, so you'll be enjoying content on one of the most vibrant screens on market. There are also a number of unique workout options including Matrix's all-encompassing Spring 8 High-Intensity Training Program: this one will really put you through your paces!
Despite the price, the machine itself is a workhorse and promises 25,000 miles of maintenance-free performance as well as having a drive system that continuously monitors footfall to ensure the perfect stride. And with a super wide belt (56cm), you'll be able to run in comfort with an added sense of freedom.
BEST TREADMILL FOR FASHIONISTAS: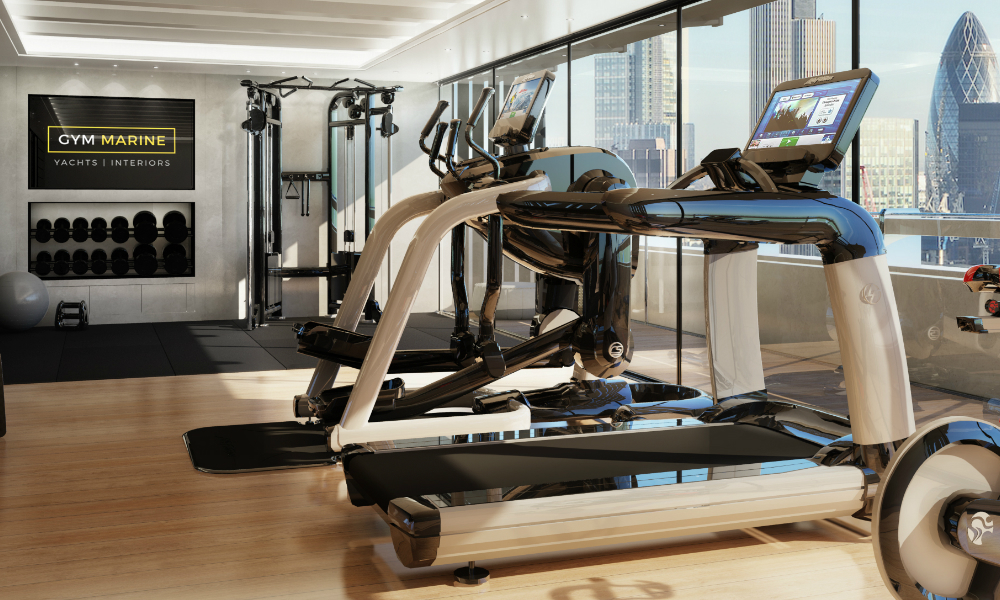 It goes without saying that all of these treadmills are absolutely lovely, but the Life Fitness Elevation Series model has the edge if matching your gym equipment to your interior decor is a priority. A heritage brand, Life Fitness have long been designing stylish gym equipment for both home and commercial use, but the reason the Elevation takes the top spot for fashionistas is the colour variations on offer. There are four finishes available: Arctic Silver, Diamond White, Black Onyx and Titanium Storm. Surely one of those will compliment that wallpaper?!
There are plenty of recognisable apps to enjoy on the brand new Discover HD Console, and runners looking for some extra escapism can embark upon a journey in a virtual 'Lifescape' – so users can run in the mountains or jog across an Australian beach from the comfort of their own homes (or yachts!). As you move through the landscape, the machine will elevate to match the contours of the road… Another great feature is the Life Fitness 'Stride Sensor' which helps to save energy by detecting whether or not the user is on the deck. Once you step on the console will come to life, and after stepping off it will pause and then go to sleep.
Finally, we can't not mention the Flexdeck which is standard across all Life Fitness treadmills. This shock absorption system reduces stress on joints by up to 30% ensuring that you'll be running in style and comfort.
BEST TREADMILL FOR CONNECTIVITY: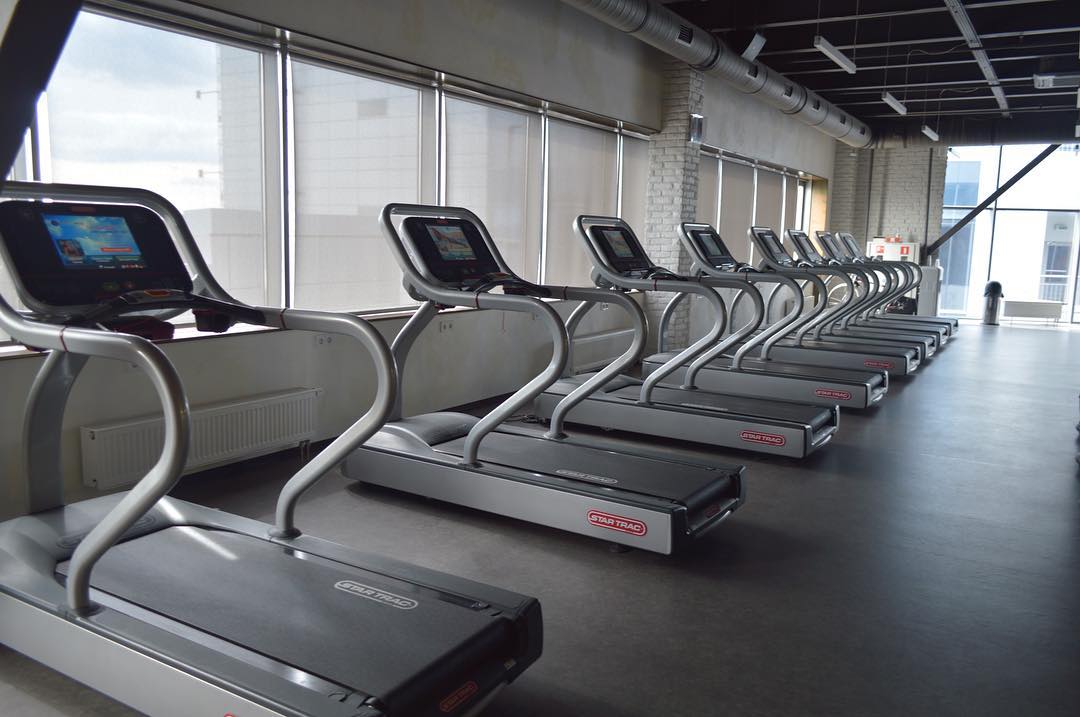 The Star Trac Series 8 TRx treadmill comes top of the table when it comes to connectivity. Star Trac have opted for an incredible open-source operating system, which they call "OpenHub", that allows users to connect and sync with a multitude of different fitness apps and workout tracking solutions. From MapMyFitness to Strava, MyFitnessPal and Nike+; the success of OpenHub lies in its ability to communicate with third-party software.
Streaming user content is no different. Star Trac's 8 Series console features an HDMI input port, which is easy to access at the front of the console. You can use this to connect any device, mirroring the display on the treadmill screen. Rival consoles rely heavily on customised Android operating systems, and users are limited to apps available on manufacturer app stores. With the Star Trac 8 Series display, the content on your device is available instantly – so you can pick up exactly where you left off at home. They've even integrated a brilliantly concealed iPad holder above the console.
Aside from connectivity, we think that the Star Trac Treadmill is beautifully designed. Indeed, its lines were penned by the world famous BMW design team – which goes some way towards explaining its dynamic profile!
Marketing Manager – Gym Marine Yachts & Interiors.
Marketing for Gym Marine is a total joy. My days are spent investigating new exciting gym equipment, catching up with our manufacturers and constantly finding new ways to reach you, our fantastic customers. If you have any queries or want to talk all things marketing, drop me a line!