A commonly forgotten part of the house, garages usually end up as additional storage space for all matter of things. Yet, they hold so much potential and can add value to a property. As more people are beginning to invest in home gym equipment, garage gym designs are becoming increasingly popular.
Why are Garages a Great Space for a Home Gym?
Motivating yourself to get to the gym in the first place can be the hardest part of working out. Then you arrive and end up waiting around for equipment during peak times. A garage gym design right on your doorstep eliminates all these factors and will help you train more effectively. Separate from the main house, it also offers a completely private workout space. You can lock yourself away, blast your favourite motivation music and completely focus on your training.
Their standard rectangular shape with no awkward spaces makes them the perfect blank canvas. With few or no pipes, windows and other features causing limitations, it also offers the potential to completely rebuild. Accessibility is another benefit of a garage gym design. Their large doors make equipment installation a lot easier. They also offer the luxury of a transformable gym space as you can move your workout outdoors.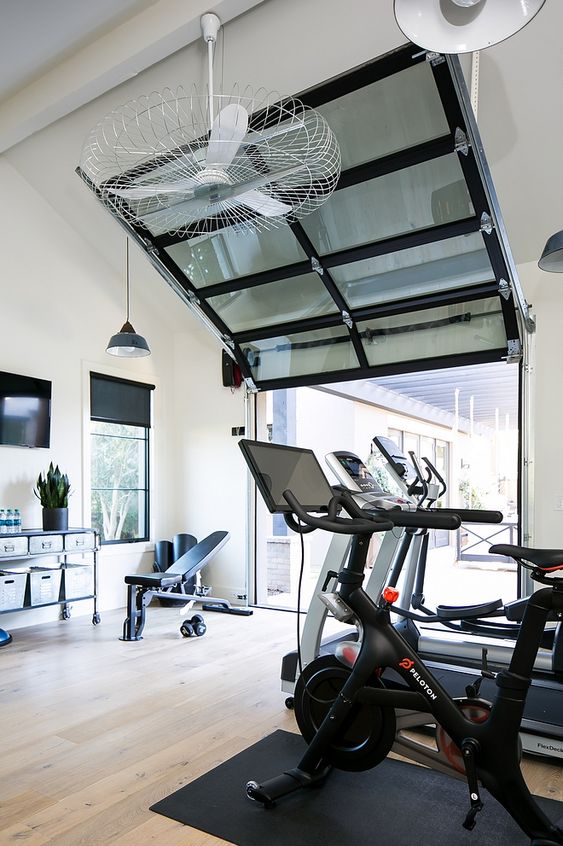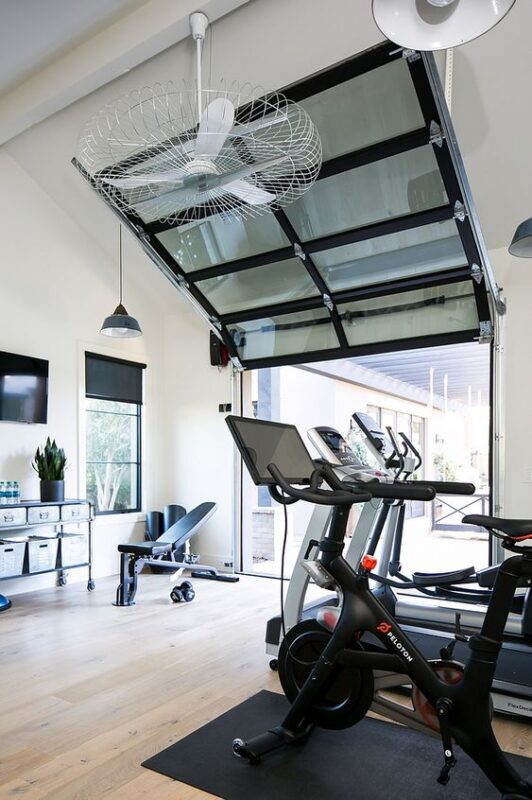 What Needs to be Considered when Planning your Garage Gym Design?
As tempting as it can be, don't jump straight into buying your equipment. Flooring, electricity, lighting and ventilation are all key factors when it comes to any type of gym design.
Good quality gym flooring not only protects your equipment, it also reduces noise and decreases the impact on joints during dynamic exercises. There are plenty of designs, colours and thicknesses to choose from. For a quick and easy installation, the Jordan Interlocking Tiles are ideal with home gym bundles available.
Electricity is another vital component of your garage gym conversion. When deciding the layout, you must consider the location of sockets as wires running across the floor is neither a safe nor attractive look. Depending on your gym equipment you may not need any power sources, however you will certainly need lighting. Don't rely on windows and your garage door as a natural light source, as you'll certainly regret it during dark winter evenings. Evenly distributing your lighting throughout your garage gym design will create a safer more inviting space.
Lastly you will need to consider ventilation. The cooler temperate in the UK is a benefit as you can simply open your window or garage door for air flow. However, there is also the option of installing air conditioning units for a comfortable workout, especially if multiple family members are working out at the same time.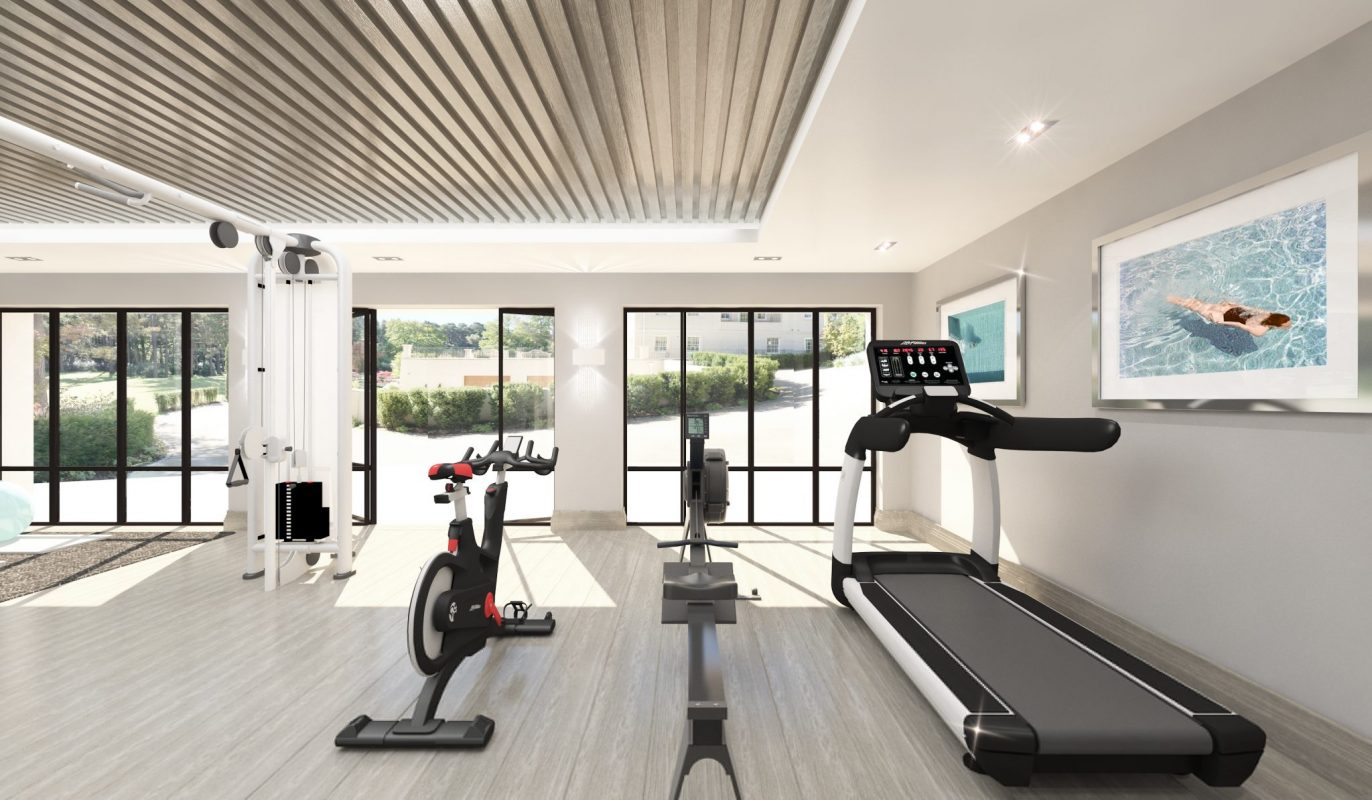 Which Equipment is Best Suited for a Garage Gym Design?
Your choice of equipment will depend on the floor space and whether it's a double or single garage gym design. Especially if you still want to keep part of your garage as storage for bikes and other items. However, there is plenty of gym equipment with space saving designs to ensure you can have all your favourite pieces in your garage gym.
For cardio machines, indoor exercise bikes and indoor rowing machines are an excellent choice due their small footprint, low height and no power requirements. Alternatively, if space is not an issue, then you have the freedom to choose from desirable features such as entertainment options.
When it comes to strength training equipment, the options for a garage gym design are endless. Utilising the space with multi-gyms such as the Life Fitness G2 and adjustable dumbbells guarantees a full body workout without overcrowding your workout area. Squat racks with Olympic bars and plates are another popular choice. The Proud Squat Stand in particular is an ideal addition as it can be stored away when not in use.
Lastly, never underestimate your gym accessories. High Intensity Interval Training (HIIT) is a great option for a quick workout using functional training equipment such as kettlebells, dumbbells, plyo boxes and more. Just remember to leave plenty of room for your workout as well as storage to ensure a tidy garage gym design.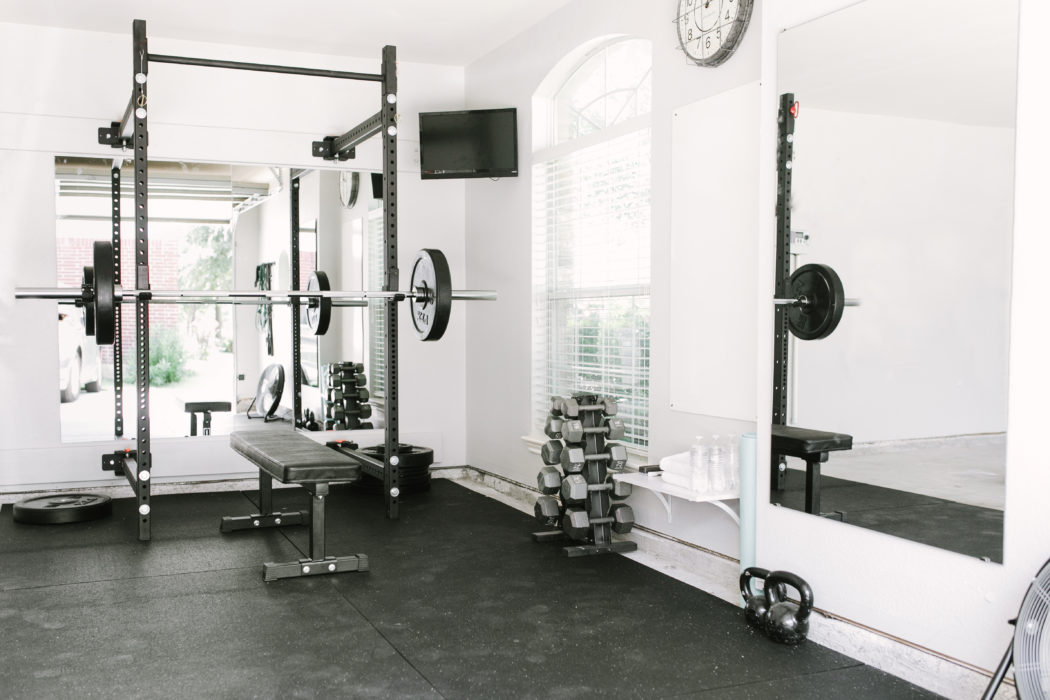 Our top picks for your garage gym design
HOW CAN WE HELP WITH YOUR GARAGE GYM DESIGN?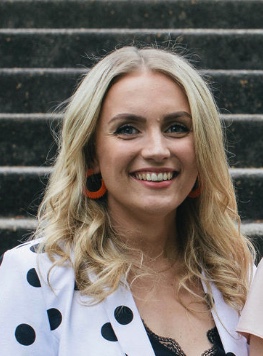 Marketing Executive
Creating exciting content and updating our wide range of products is what I love doing at Gym Marine. It's always great being able to showcase our fantastic projects and engage with customers online. For any marketing related enquires, get in touch!