To round off another exceptionally busy month, the Gym Marine Yachts and Interiors team will be attending the ever fabulous Monaco Yacht Show, which takes place from 27th – 30th September.
Directors Edward Thomas and Guy Royffe are looking forward to catching up with familiar faces and meeting many new ones to chat about some of our most recent projects as well as exciting new product launches and development.
Ed and Guy will be joined this year by Kayleigh Westgarth, who is heading up our new spa brand sister company, Coral Spa Consultants, allowing us to create a holistic wellness experience on board.
This year is particularly special for the Gym Marine Group as we move into our 10th year of trading on the 1st October and we are thrilled that there will be a number of superyachts in show featuring gyms we have designed and implemented during that time.  Here's a preview of just some of our work to look out for….
Polar Star – Gym Marine were heavily involved in redesigning the gym on board the 63m Lurssen expedition yacht when she underwent an extensive refit in 2016 and have provided ongoing support throughout her worldwide cruising. Her ice-class hull gives her access to remote parts of the world that are not typically frequented by most yachts.
Alunya – This 49.9m Benetti yacht is one of 15 in the B.Now 50 semi-custom series and was delivered in 2023. The gym was designed for a space known as the 'adventure room' and the Gym Marine team had to work with restricted dimensions, low ceilings and alcoves. A formula has been implemented to maximise workout potential in unconventional and limited spaces, which can now be repeated on future projects.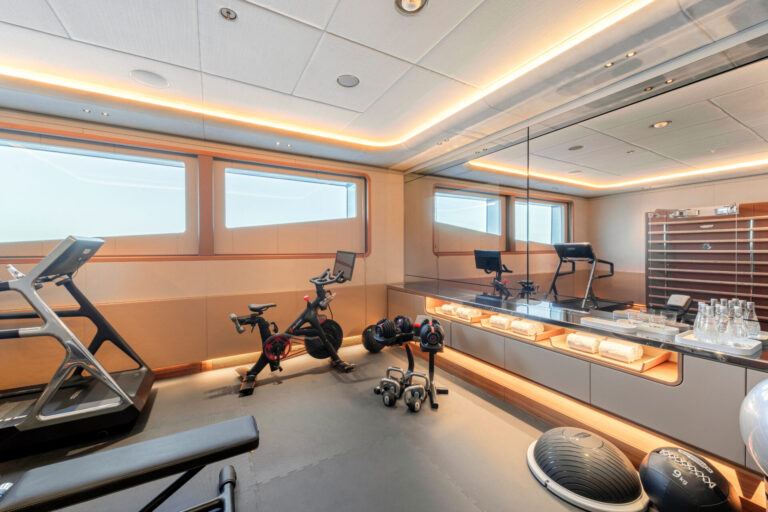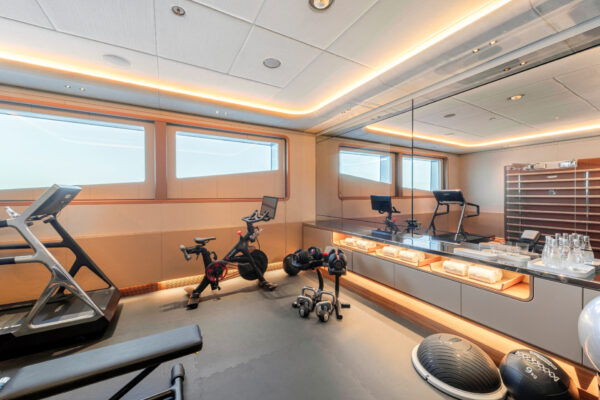 KENSHO (Photography by Christopher Scholey)

Kensho – Delivered in 2022 by Admiral – the Italian Sea Group, 75m Kensho won Motor 'Yacht of the Year' at the 2023 World Superyacht Awards. Instantly recognisable with her striking blue-green hull and flowing lines, the owner of Kensho (from the Japanese word meaning "seeing one's true nature")  was heavily involved in her build, which took six years to complete. His meticulous eye for detail can be seen throughout, not least in the gym with its state of the art and top end range of Technogym equipment.
Loyalty – This 49m Heesen was one of Gym Marine's earlier projects featuring a range of clever equipment to fit custom made deck lockers on the sun deck.
Alchemy – Launched in 2023 and delivered by Italian shipyard, Rossinavi, Alchemy was clearly designed with relaxation in mind and is brimming with social dining and entertaining areas including a beach club and Jacuzzi as well as a fabulous spa with loose equipment linens and accessories provisioned by Coral Spa Consultants.
Entourage – Delivered in 2023 by Amels, Entourage features state of the art equipment and technology throughout and the gym is no exception. Gym Marine provisioned a range of equipment for the sun deck and beach club with a custom Multi Gym which was modified for lower ceiling height. It also features an interactive wall mounted mirror which opens up to reveal equipment.
Nero – Modelled after the J. P. Morgan Corsair, Nero was inspired by the Golden Age of the 1920's and oozes the elegance and opulence of a time gone by. Her gym, however, is very much in line with modern fitness requirements and features top of the range Technogym equipment, with large doors that open up for indoor and outdoor training.  Our team were also involved in the multi-functional treatment bed for the spa room.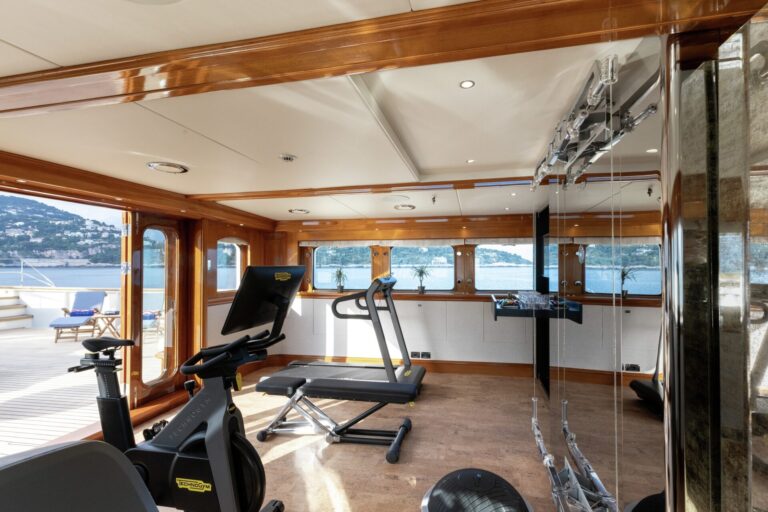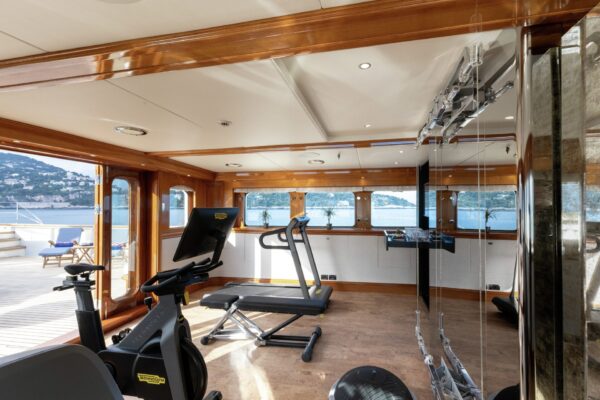 NERO (Photography by Blue iProd)