51M HEESEN
Sky is a beautiful Dutch built super yacht with an owner who values the gym space onboard highly.
Prior to a cruise in the Maldives, Gym Marine assisted the captain and crew with designing and fabricating a custom fastening system for a new Technogym Kinesis. A unique frame was required as there was not a suitable wall to fix the unit to in the sundeck gym.
PROJECT INFORMATION
KEY DATA
PROJECT TYPE: Refit
BUILDER: Heesen Yachts
DESIGNER: Mojo Stumer Associates Interior & Omega Architects Exterior
PROJECT MANAGEMENT: Crew
INSTALLED: May 2017
GYM SPACES COMPLETED: Owner's Gym
TESTIMONIAL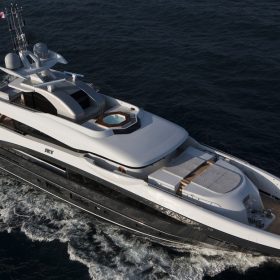 Thanks for all of your help!
Everything is working well with the Kinesis… it looks great in the gym and the boss loves it.