The Power Plate Pro7 is a dynamic addition to any gym
Complete with customised programmes and videos—the Power Plate pro7 is the remarkable machine that will set your gym apart from the rest. In addition to Power Plate's advanced vibration technology, the pro7 features an integrated touch screen computer complete with coaching tips to guide you. With proMOTION dynamic cables embedded into the largest Power Plate platform yet, training on the pro7 is limitless.
The expansive memory on the pro7 allows thousands of users to create private profiles and save workouts and favourite exercises. With an easy-to-use integrated touch screen computer, users can choose from pre-programmed workouts, Quick-Start Mode, Single Exercise Mode or Manual Mode.
Programmes are divided into three lifestyle goals – FEEL Better, LOOK Better and PLAY Better, and the pro7 knows when it's time to increase the intensity of a workout, setting the machine automatically.
Key features of the Power Plate Pro7:
Grade: Commercial
Color: Graphite – additional colors available upon request (additional fee with a 12 week lead time)
Time Selections: 30, 45 or 60 seconds / up to 9 minutes
Frequency: 25-50Hz / 1Hz incredments
Vibration Energy Output (amplitude): Low / High
G-Factor™ Settings: 0 to 8 (with 27 sublevels of intensity)
Operation: User-friendly interactive display
STAX™: Advanced Stabilization and Compensation System
PrecisionWave™ Technology: High-fidelity harmonic vibration system that provides uncompromising performance for unsurpassed results
Dual Sync™ Twin Motor System: DualSync Twin Motor System maintains precise balance at any frequency and amplitude level, allowing perfect synchronization of vibration for maximum muscle response and efficiency
proMOTION™ Dynamic Vibration Technology: Seven-position tension adjustment; embedded with modular attachment option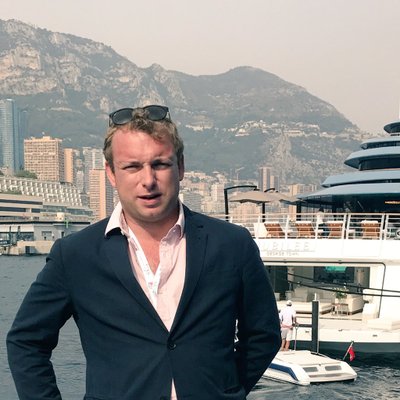 Director & Founder – Gym Marine Yachts & Interiors. 
I began my career onboard superyachts working for some of the world's most discerning clients, finding health & fitness to be a common passion amongst all of them. Starting Gym Marine at 24 has been my proudest achievement yet, and today we are striving to become world leaders in our field.