Whether it's streaming Netflix while on the treadmill, participating in an online spin class, or listening to a relaxing playlist during yoga practice, the audio-visual aspects of a home gym impact the overall enjoyment and functionality of the space.
"Clients are accustomed to increasingly advanced home entertainment systems, and it's important that a home gym lives up to their audio-visual expectations" advises Edward Thomas, Managing Partner of Gym Marine Yachts & Interiors.
The sound system plays a key role in a gym, as it creates the atmosphere and motivational energy. From an acoustic perspective, gyms tend to be harsh rooms with mostly hard surfaces, so producing clear and vibrant audio can be a challenge. Acoustic treatments on the walls help to improve the acoustic properties of the space, as well as isolate the noise coming from the gym.
It's important to incorporate enough speakers in a gym to create a high sound pressure an overcome the background noise generated by the machines. As gym's don't typically have a single focal point, omni-directional audio is most suitable. Sum-to-mono combines the left and right audio input signals of the power amplifier to provide a mono signal output to the speakers.
Installing audio systems for multiple users is an increasingly common request in gym design. The easiest way to do this is by using Bluetooth transmitters so that each gym user can have their own set of headphones and select there preferred audio channel. To avoid headphones, it's possible to install directional speakers aimed at each piece of equipment so that the audio can only be heard on that exact area.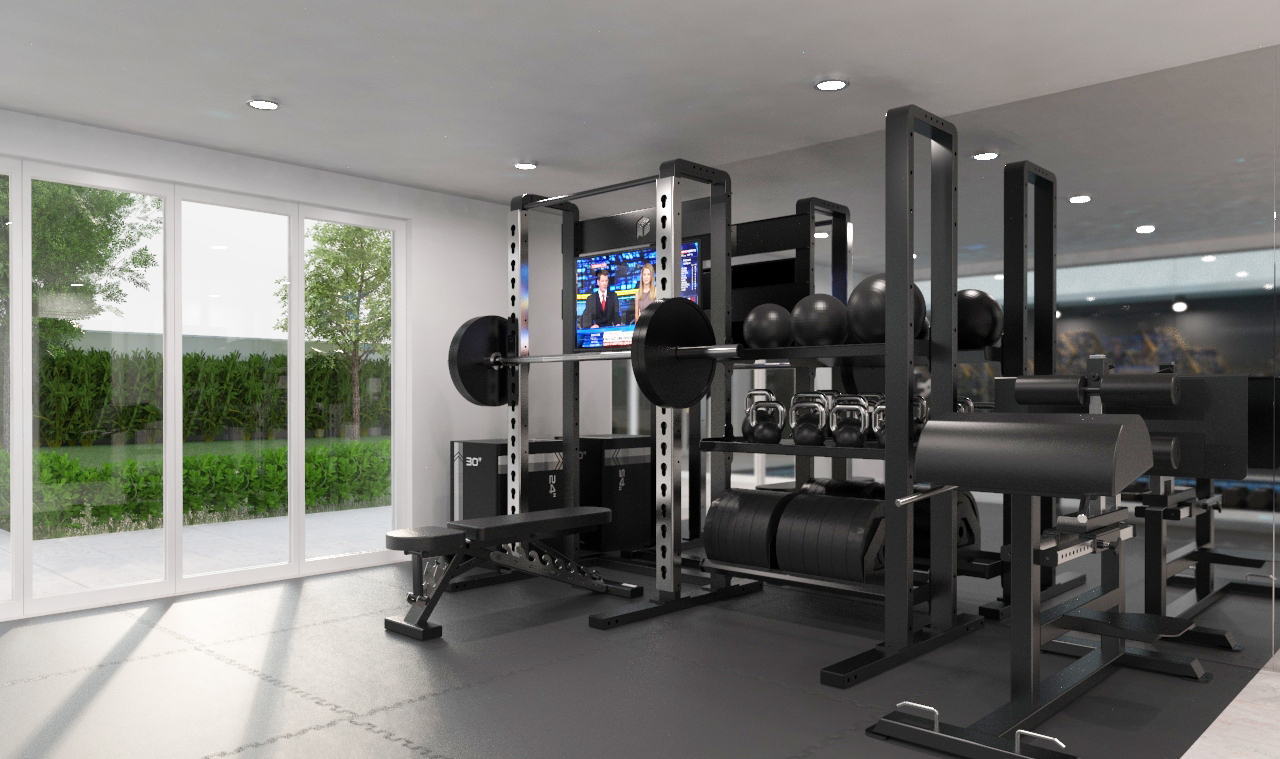 From a posture and comfort perspective, watching a large TV screen on the wall of a gym while exercising is better than hunching over a smaller screen on a machine. As such, it is a good idea to talk to clients about whether they really want machines with in-built TV displays, as they will likely have a better viewing experience from a TV on the wall.
With any TV screen, it's important to consider the view from all angles of the gym to ensure the TV can be watched from wherever the user is exercising. Various TV mounting solutions can be used to improve viewing flexibility, such as vertical lifts to adjust viewing height or drop-down ceiling lifts with 360-degree motorised swivels to allow for multiple viewing angles. 
It is also worth finding out whether the client intends on using any specific fitness apps, as there are certain ranges of machines that link to specific apps via Bluetooth, enabling users to participate in virtual races and watch the content on the gym's TV screen. 
The aesthetics of the gym can also be improved by taking advantage of the latest technology and replacing traditional TV screens with Mirror TVs or micro-LED video walls.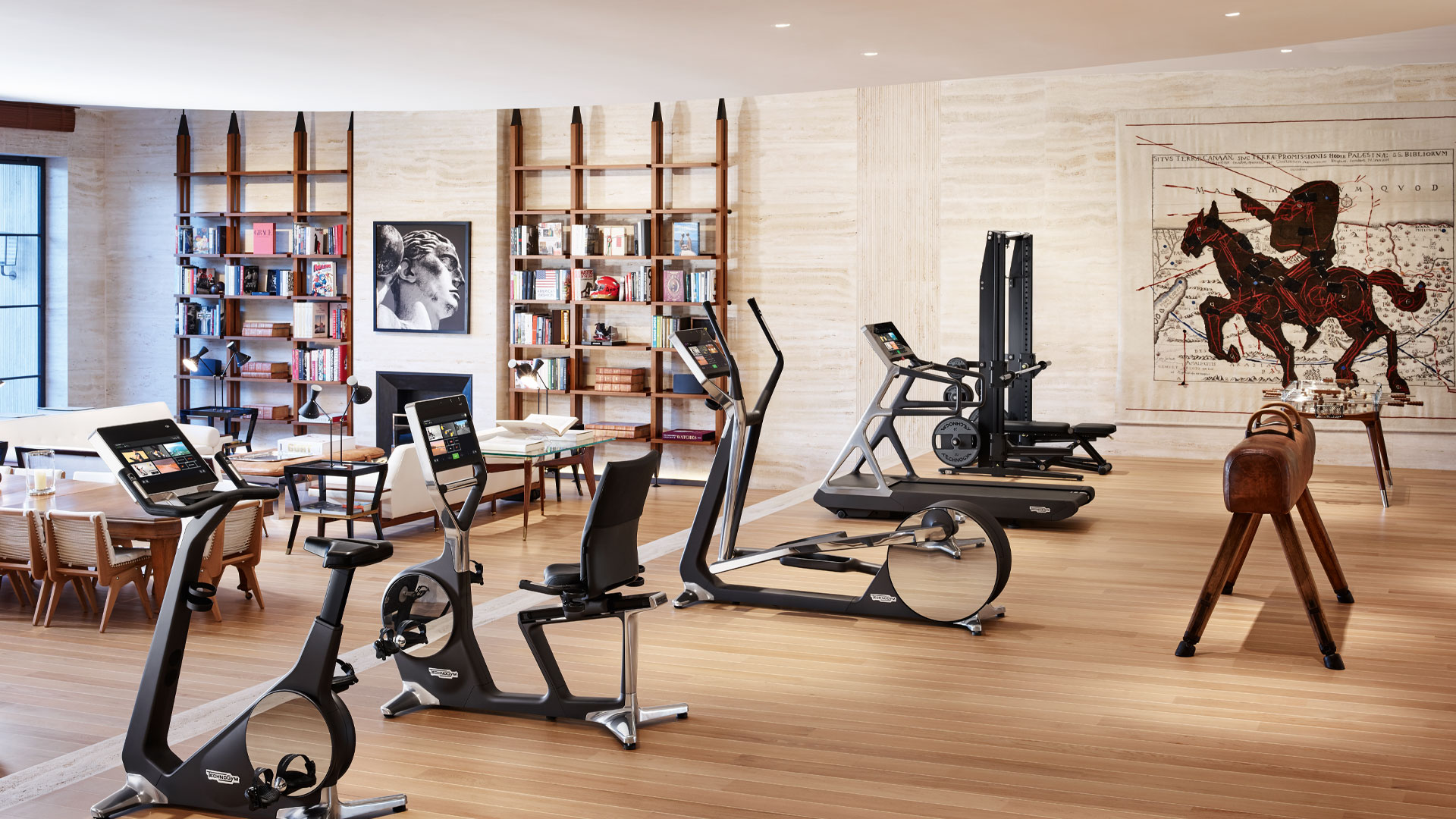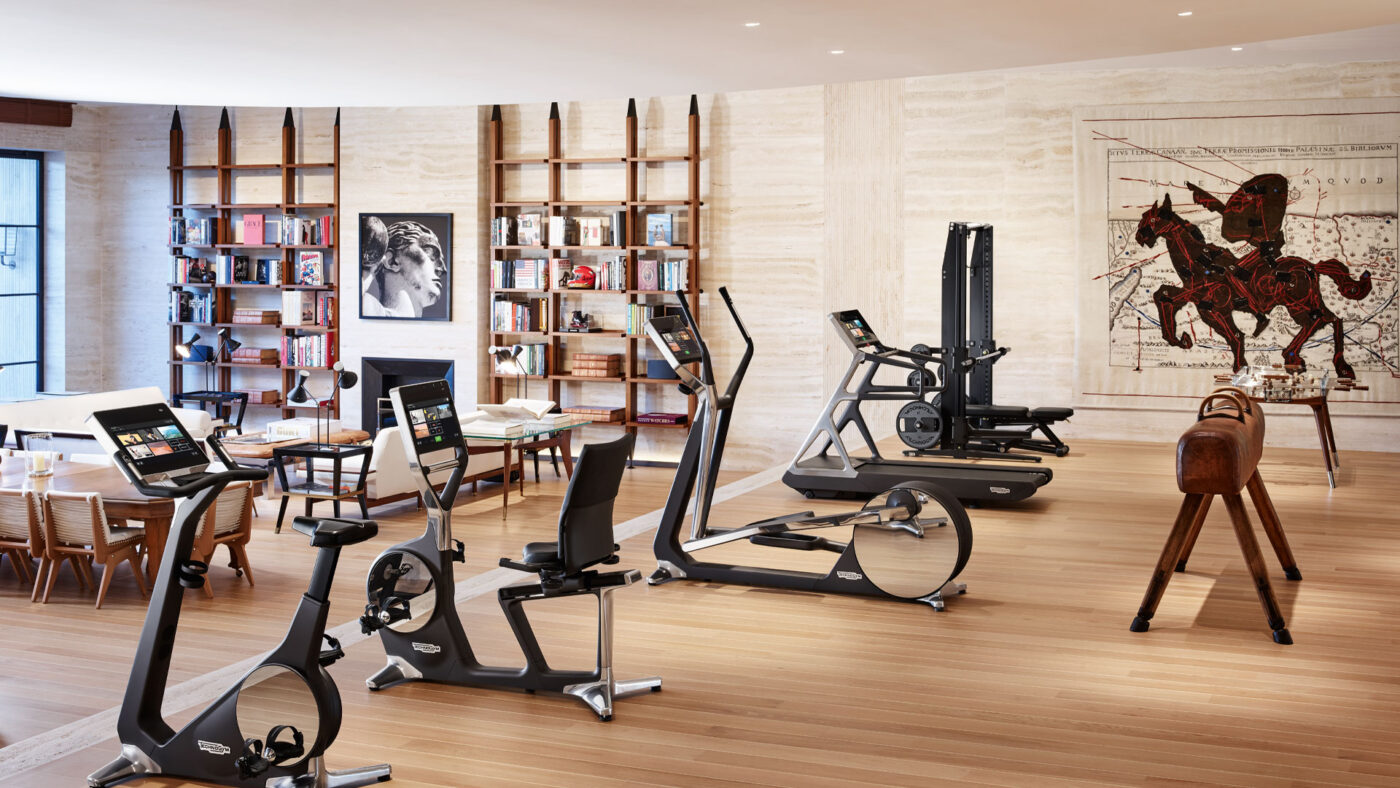 For clients that request machines with in-built screens, additional cabling will allow for the ultimate flexibility when it comes to machine connectivity.
There are three options for inputting external content into machines in a home gym environment: traditional television channels can be delivered to the machine via a coaxial cable; IPTV can be delivered via a CAT5 ethernet cable; and a select number of machines feature HDMI inputs, which will allow them to become part of the distributive AV system. 
If it's not possible to install additional cabling, then equipment selection is important. Typically, the top-of-the-range machines with in-built screens will have WIFI connectivity and their own operating systems with a basic selection of apps installed for streaming media content.